First Advent ...

Xmas shopping today was super cool with my friend Sofia.
I am going to decorate tomorrow though because now I am exhausted.

I bought some more black decorations, black candles, an xmas flower, and a pepparkakor house to build myself (gingerbread-ish house) :p

Tomorrow I'll buy ingredients to make my own Glögg (mulled wine), and maybe ingredients to make pepparkakor too (gingerbread-ish cookies). I also want to bake lussekatter (saffron buns) at some point … hmm probably on Lucia.


I also also alsoooo ... want to make a chocolate soufflé this year, but I'm going to ask for help from Ronnie. Since we are buying Samichlaus on Tuesday, a chocolate soufflé is appropriate I think, yes? Mmmm! Yum ym!!! Yes!!!




- This recipe looks rather fine!!! Chocolate Soufflé



I'm so happy with the holidays :D


Today is the first advent so I lit my first candle ... like so ...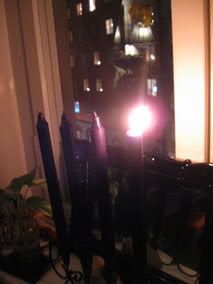 … and so it begun …


Oh and ... like every year ...
If you're in a Xmas-y mood. Put on my Xmas Mp3 collection with my favorite Xmas songs ;)

This link will be repeated here in all my entries throughout Christmas... like every year ;)


Happy Holidays
darlings :)