How the month started …
Well, Christmas decorations are up. I bought 2 Euphorbia Pulcherrimas, or else Christmas Poinsettia (Greeks for some reason call it Alexandrian)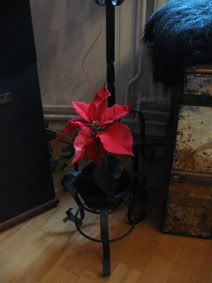 My pretty little black tree is up with all its black ornaments and red lights. My lovely black Julbock is on the piano with my book of psalms ( it is old and looks cool ok??)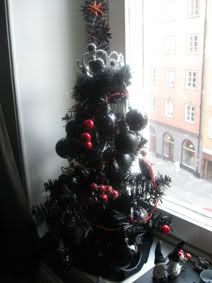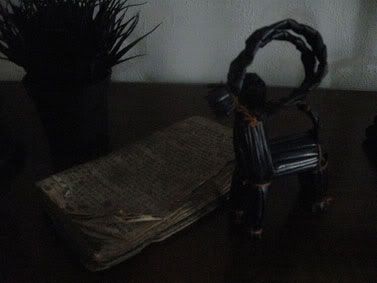 My black star already hanging on my window. My beautiful black garland is on my door. Some lights here and there ...





along with my electric adventsljusstake* (advent wreth*). by the window.
Of course I have the real advent candles (as I posted on the first advent), but the electric gives a lovely light throughout December :)


Mmm I also bought me my Advent Calendar yum yum yum. 24 delicious mini milk chocolates!!!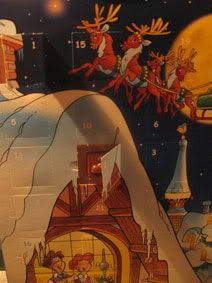 Moving on to crafting.
I wanted my flat to smell Christmassy and jolly all day long so I made a couple of holiday pomanders and I baked some orange slices. Here are some "how to make" pictures, in case you feel like doing it too. It is easy and fun and it makes your home smell wonderful.
For the homemade holiday pomander. All you need is oranges, lots of clove and (if you feel you want to elaborate) a cinnamon stick.
You just stick the cloves into the oranges in any shape you like:)
Here is my OrangeMan. Well since it doesn't seem to be snowing anytime soon … I may as well have an Orangeman instead ;)


Ok, How to dry orange slices for crafting.
You might have searched online and you have probably bumped into this word dehydrator …. What in Spok's name is a dehydrator and why would anyone have one? I got SO annoyed because there was only ONE person who wrote how to do it in the bloody oven. (this lovely lady here: Danelle Karth )
So yes, because not all of us have a bloody dehydrator, the oven is your tool.


Here we go:

Slice the orange. Put the slices on paper towel. Blot them with paper towel.Cut a lemon, drop a few drops on each slice and spread it evenly.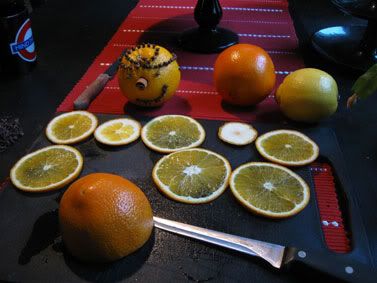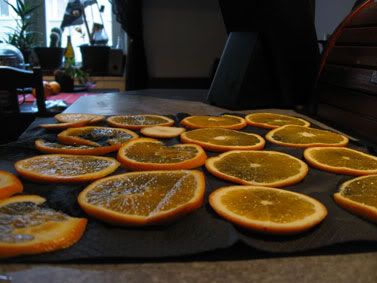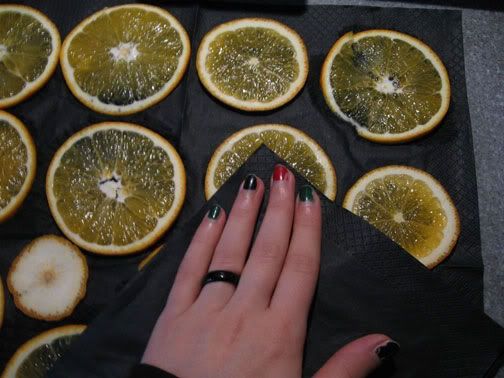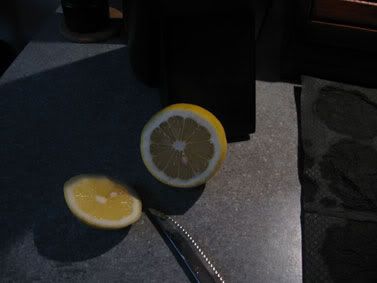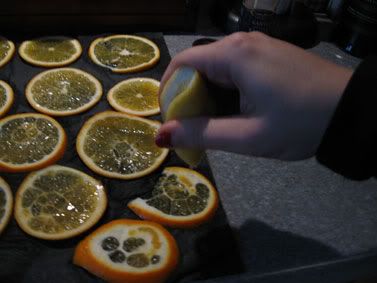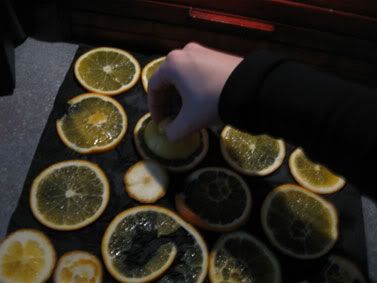 Blot one more time and then add a sprinkle of cinnamon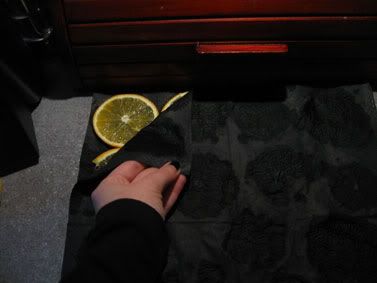 Place the slices on the wire rack of the oven on 125 degrees for one hour. After the one hour turn them and lower the heat on 100 degrees.
Let them then bake for 2 more hours.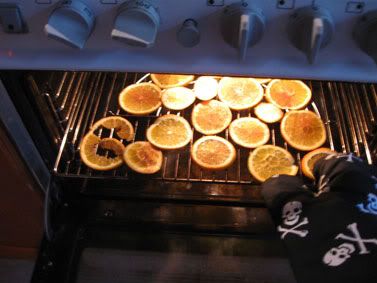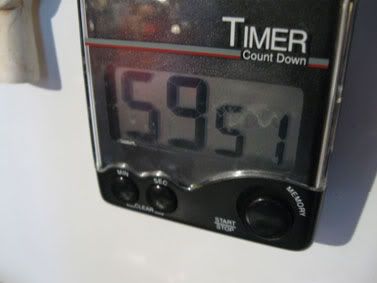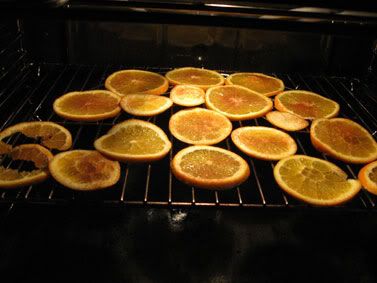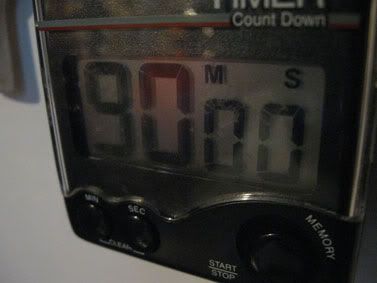 And voila !!! A pretty center piece with great smell !!!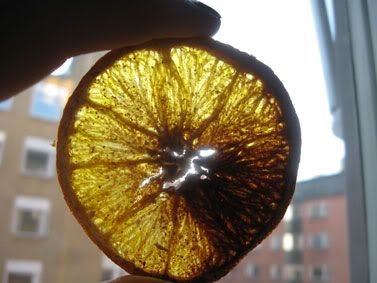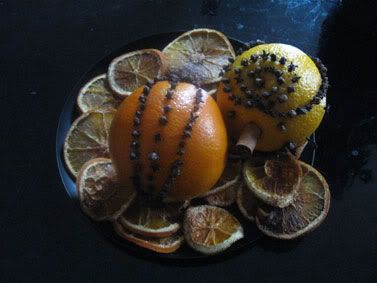 Well, since I was baking already, I got me some apples and baked them along with sugar and cinnamon.




They were tasty but not as tasty as they smelled though! My friend Anna loved them though since she ate two ;) If anyone out there knows a magic recipe for baked apples please bring it on. (I am in homemaker's mode now so I bake as if there is no tomorrow)

With all this homemaking and baking (and sewing as you will see in later posts this month) You would thinks that our fridge is full of food and cakes and all kinds of goods. Hmm but no, not really … our fridge is packed with beer. I do not know why...




I guess we eat faster than we drink … or we go to the liquor store more often than the grocery store. Beers arrive at home almost daily now.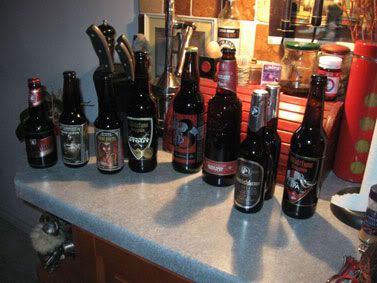 So yesterday, it was Rigor Mortis's turn from our Christmas beer collection.
Ah those Canadians!!!! They make wonders with Belgian-style beers!!! It was orgasmic. This, and the 2 year old 777 Stone Vertical Epic (God bless California!!!) got my eyes rolling and my throat tingling. A- from me!!!
Then for dessert we had
Rogue Chocolate Stout (Ah, Americans and their Stout!!!) with muffins … great combo! As well as the best Stout in the world ;) The pride of my country! Slottskällans Imperial Stout 2009, also with muffins. Mmmmmm! Deadly good!!! Dangerousely good!!!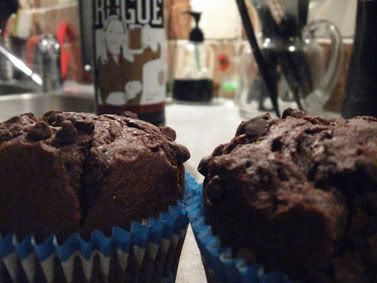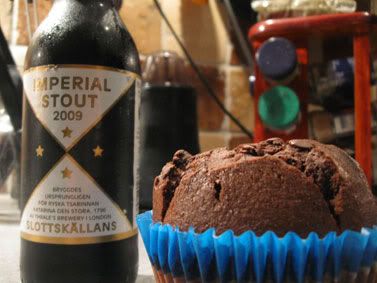 Ah life is very very good!!!



Food of the week was my idea but my man actually cooked it so we both get credit.


Ok the man cooked a magnificent fish casserole with asparagus, zucchini, mash potato and secret ingredients. I think I died a little as every bite was sinfully tasty, making my eyes tear up. Note: Asparagus is the bestiest and tastiest green food on the planet!!!
And with that I will leave you to it.
My heart is full of love these days. Even my potatoes say so ;)



Kiss kiss and tata for now ...

kitty is off to the sewing room ;)



P.S. Good to know: Cinnamon contains lots of antioxidants and has many health benefits. It balances the blood sugar so your body doesn't need to produce as much insulin to manage the blood sugar. Insulin is fattening and increases the risk of type 2 diabetes and cardiovascular diseases. So, use more cinnamon!
:)