There is finally no sign of Christmas left in my flat now.
I am so strict with the traditions …. Yet I fail to keep the cleaning up the Christmas crap on the 13th of January tradition. I got SO lazy the last couple of days.
I have hundreds of things to do, I am chocking if I think of everything. Yet it seems that the only thing I felt like doing was drinking tea in the evening while solving a really hard jigsaw puzzle with Ronnie and later at night drinking some wine with a good movie.
Plus I finished my lovely lovely book (The Graveyard Book)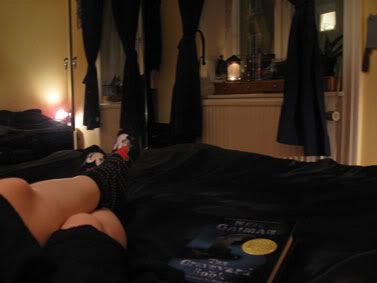 And because I got really sad about it, my darling Ronnie bought me a book that has crazy promises written all over it. It is Good Omens by Neil Gaiman and Terry Pratchett or by Terry Pratchett and Neil Gaiman ;)
I started reading yesterday. I have to say that right after The Graveyard Book … no book seems worthy … it is still echoing in my head … So, Good Omens started a bit dry … I see the humor and the philosophy … I admire the language - It goes without saying that everything written in English I read in English. And everything written is Swedish I read in Swedish and well Greek in Greek … (the last one, when and if). Avoid translations people … it is the source of all evil! Right after religion!!! - but it has yet to beguile me. Yes, they are both extremely skillful writers Terry and Neil. But Neil really stole my heart with The Graveyard Book so I am still not convinced that Good Omens will sweep me off my feet. However, I have only read the intro, so … I cannot form an opinion yet.
On other news.
Snooker.
My two favorite snooker players went at it in one more final. And what a final that was. No matter how much I like The Rocket, The Jester from Leicester did it again :) Mark Selby won Masters last Sunday in an exceptionally exciting game with Ronnie O'Sullivan!!! You can read about it here: Mark Selby shocks Ronnie O'Sullivan at Masters final Or if that link doesn't work, you can check it here: Mark Selby completes comeback over Ronnie O'Sullivan to win Masters
What a great game!!!
What a great final!!!
In the whole game I was thinking ... no he can NOT do that ... and then .... GodDamn it he did it!!!

Damn I love snooker!

"Selby opened up with an outrageous long red from O'Sullivan's break, setting the tone for the rest of the frame to clinch one of the most memorable finals in Masters history."
I love it when those guys play together. It is like … how should I put it for those "snooker illiterate" ?
It is like Max Klinger and Salvador Dali would paint a piece together!
No?
Maybe it is like Neil Gaiman and Terry Pratchett would write a book together :p (Heh, well we'll have to see about that … as I said … still in the intro.)
That didn't help either?
Ok, how about … it is as if Chopin and Pergolesi would compose a sonata together.
NO?!!
What the fuck is wrong with you?
Pfffffff OK THEN … It is like Johnny Depp and Garry Oldman would take part in in a play for two!
… naked?
Goddamn sometimes I think I'm alone in the world!
Oh and by the by …
Whoever tells me again "WHERE will you wear THAT?" I will kick them right in the scrotum!
I'm off to clean my closet.
tata