After an uber hot weekend and a couple of blazing hot days following that, some coolness finally arrived. From 28C degrees (82.4 F), we took a nice dive down to 9C (48.2F) with some nice refreshing rain. Today the thermometer is somewhere between 9 to 14C (48.2 to 57.2F) and the sun is shining bright and the sky is blue. I love the weather in Sweden. It is always adventurous, always surprising. You are never bored with it. The one day you might be half naked lying on the grass in some park eating melting ice-cream getting a sunstroke and the next you might be wearing your favorite wool sweater sitting outside some café drinking hot chocolate enjoying the cool breeze.


Sadly most people spend a ridiculous amount of time, energy and gray matter complaining about the bloody weather.
I had lunch with my sister yesterday and on my way to the restaurant I decided to walk in the rain under my favorite lace-umbrella. I walked through some tree lanes and got very happy walking by and looking at the beautiful colors all around me. The wet leafs on the plaza, the wet seeds and the flowers leaning towards the ground carrying the weight of crystal raindrops. I had a smile on my face as big as Joker's and when I finally met my sister she had the face of a supermarket clerk. :( The FIRST thing she did was to make a dreadful remark about the weather and to tell me that she thought I wouldn't make it because of the weather. I told her: " have we met?". Our lunch lasted 1 hour 7 minutes. The 45 minutes of it was my sister complaining about the weather. We changed tables also because she felt a draft … We could have been talking about something other than the weather and she could have been happy. Why can't some people enjoy life as it comes? Unless you are in Athens in the summer in the inhuman 43C (109.4F) there is absolutely NO fucking reason to complain about the fucking weather. It annoys the magnolias out of me and makes me feel sorry for people. I hate feeling sorry for people. My poor sister is sad most of the time for absolutely no reason. I am happy most of the time for absolutely no reason or maybe every reason ;)
I am telling you I MUST be adopted. Most of my family members are half depressed, full depressed, or mentally disturbed\challenged. And apart from those who can not help it, the others just cause misery to themselves.
The next person who complains about the weather in Stockholm is getting a lollipop from me. It is better to have their mouth full or I can't promise violence won't appear in the company.
other than that ...
I'm taking it easy in my hood most of the time
...
with any weather
...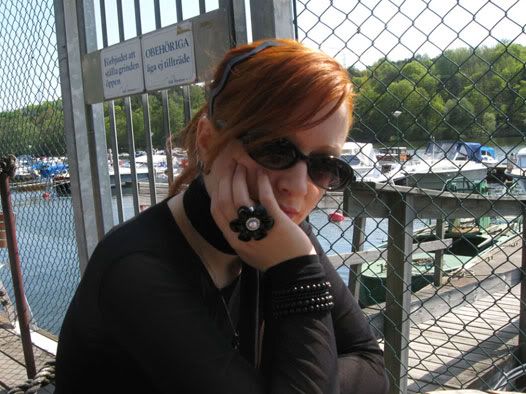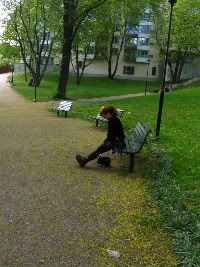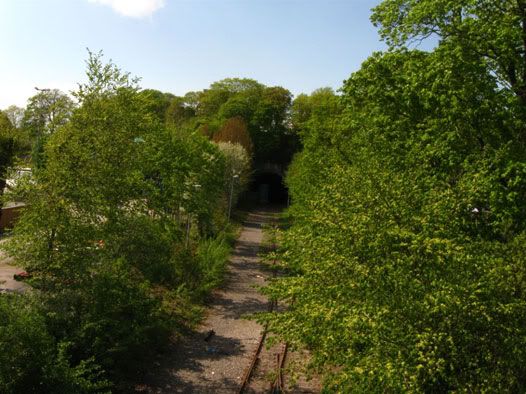 My dish-gardens are growing. (thanks to my green fingers)
My hair color is beyond perfect (thanks to Danae who sends me the hair dye )
And my storage room is clean :)
So I said do you, oh do you remember this?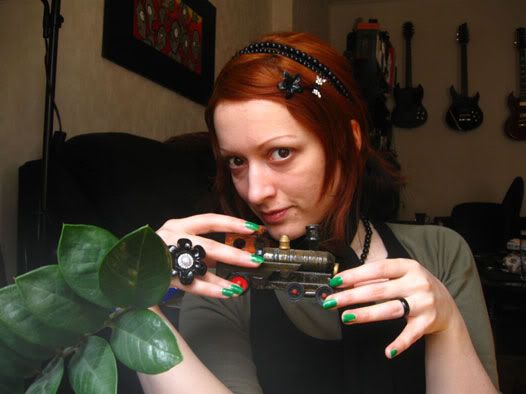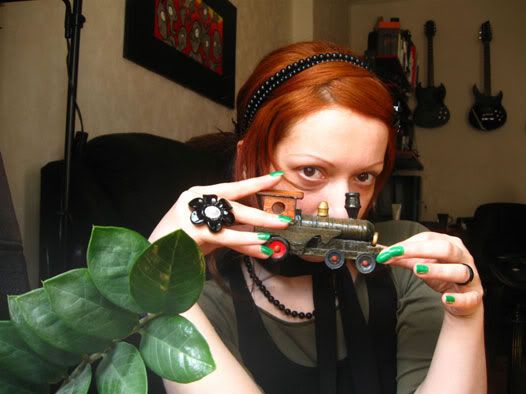 Some hot summer night in Athens 7 years ago at an amusement park in the middle of the night … :)