I watched Grey Gardens the movie from 2009 with Drew Barrymore and Jessica Lange who portrayed the *Bouvier Beale women so wonderfully they got me in tears.
I was so bewildered with those two that right after watching the movie I started looking up for the original documentary Grey Gardens from 1975 that the Maysles brothers did (Grey Gardens (1975)
*Edith Ewing Bouvier Beale and Edith Bouvier Beale


"An old mother and her middle-aged daughter, the aunt and cousin of Jacqueline Kennedy Onassis, live their eccentric lives in a filthy, decaying mansion in East Hampton"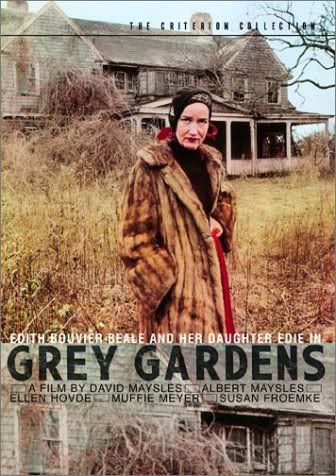 Unfortunately I can not find the original documentary but I found the one from 2006 which has unseen footage from the original
The Beales of Grey Gardens (2006)
"Utilizing hours of unseen archival footage, The Beales is a new take on the women of Grey Gardens"
The fact that those to women were once upper east, very wealthy privileged, high society gals, from a very wealthy family and they ended up living in this crumbling mansion with hundreds of cats shitting allover the place, (with no heat or water for sometime) all by themselves, cut off from the world, in their own private sanctuary. In a very wealthy neighborhood of East Hampton, New York. An East Hampton Mansion that was crumbling and making all the rich obnoxious hollow assholes around it boil with anger, because it was spoiling their pretentious idle summer vacation. The Bouvier gals were a kick in the nuts, a kick back to reality. They were the banana-fly hovering over their caviar. They hated them.
Yet these two women acted so natural around those god awful conditions and they looked … happy.
In the end they were spending all their time in one room. There they had their lil refrigerator and there they had a little apparatus to cook and there they'd sleep and entertain.
Then you have little Edie and her whole magnificently weird persona. The way she spoke, the words she chose to use and the way she dressed! This woman was so innovative so imaginative so wonderfully crazy. So beautiful.
You have designers paid loads and loads of money for their idiotic clothes and all the shopping zombies consume and consume in god awful ugly clothes, when this woman had it all figured out in her crumbling mansion. The things she was wearing were absolutely striking. She would take a sweater and make it a skirt; she would take a pair of old trousers and turn them into a wonderful scarf. And she was moving about the place like a happy cabaret queen. What a beautiful lady, what a sensitive crazy creature. What a character. I fell in love with her madness. I fell in love with her uniqueness. She was indeed like she came out of a Hemingway novel. What a character!

As for the 2009 movie, I have to say that Drew Barrymore and Jessica Lange they did a great job. Jessica Lange deserves tons of awards for imitate Big Edith. Drew is an adorable actress but not good enough to really capture Little Edith's magic, " you understand", but she did a rather fine work.


Here is a lil behind the scenes clip on youtube: Grey Gardens: Then and Now



And here is a little clip of Grey Gardens today with one of the Maysles brothers revisiting after 30 years. Return to Grey Gardens





I suggest watching the movie, and try to find the 1975 documentary (and after that find the 2006 unseen footage if you want more of Little Edie)
I have only seen bits and pieces from the original documentary on youtube and I have to say : "She brings be to tears, you understand"