Yesterday was my name day.
Swedes do not celebrate name days, and neither do I really. But, on the other hand, I've always enjoyed the presents!
My lovely boyfriend cooked for me the best lasagna ever and we cracked open the Chouffe Houblon we've been saving since Christmas, which was bloody DIVINE!!!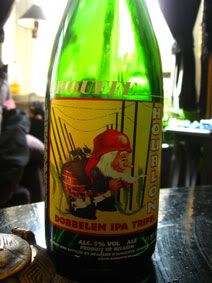 So, apart from a lovely meal and a great Belgian Ale, I got me a ticket to Inglourious Basterds, the new Nemi book (book 7), and a lovely Public Enemies poster!!!!!
Let's take them in order of appearance.
I first have to say that we were in the biggest room and it was all packed. Yet, everyone behaved. It was the most well behaved audience ever. The best movie experience in years!!! Great sound, fantastic sits, HD film and the best audience!!!
Now, I LOVED the movie. And needless to say that everyone else loved it as well. I can not remember when was the last time I was at the movies and in the end of the film the audience applauded. Yes they did. There was clapping and cheering!!! This is something very American so it was really weird and rare to experience in a Stockholm theatre. Swedes don't show their appreciation audibly unless they are really impressed!!!
I don't want to go into details, I don't want to spoil it for anyone. So I will just say that everything was beautifully made, the Tarantino way. I never thought I would ever come across Tarantino dialogues in any other language other than English. I will not go into filming, angle, and picture details. Everything was Tarantinesque and perfect. I don't need to make unnecessary comments about how wonderfully he combined the 40s atmosphere with 60s, 70s and 80s music. I only have to mention that he is the only one who can do it flawlessly!!! Directors generally fail to do this, and many times they create monsters. (like for example Sofia Coppola's Marie Antoinette … the choice of music was grotesque. Even though it was great music and a collection of musicians I love, the combination was moronic) But no Mr. Tarantino is indeed a master in what he does!!! He can be a little arrogant and annoying, but he is a brilliant director!
All the actors were very good; all chosen very wisely! But nobody will disagree when I say that it was a one man show. Christoph Waltz was the star of the movie! What an actor!!! What a discovery!!! What a talent!!! What a man!!! Mr. Waltz stole every inch of film with his presence. Every moment with him was like a rollercoaster ride. He makes you love him and hate him at the same time. What a delightful actor!!! I really hope to see more of him, I really do!!! This is my second bet for Oscars this year. I've already picked the best director Oscar (Michael Mann for Public Enemies) And although I 'm sure my boy Johnny Depp will get an Oscar nod like every year, he won't win it this time either. No matter how much I want to see my favorite man be finally rewarded, Mr. Christoph gave a too good performance to compete with. There is no competition I'm afraid! Sorry Johnny boy. Next time.
Alles Gute, Christoph! Alles Gute!!!
- This year the book cover is the color of the year. I got obsessed with green this year – So, this year Nemi's book is special. Many things have changed. One of them is Cyan. Her life changed dramatically in the last book. And the other is that Lise (the girl who is writing Nemi) had a baby the year she was writing Nemi 7 (about 2 years ago), so I want to see if the fact that she became a mom will have an effect on her style. I am curious to see if she becomes softer and/or sentimental. I want to see whether or not, a writer like Lise, can keep her heroin intact, when she herself has changed almost completely. I will start reading as soon as I finish this post.
The Public Enemies poster.
This one I got … from a stranger. When we went to the cinema to get the tickets for Inglourious Basterds (the day before) I talked to one of the people wearing a cinema uniform (you know, those who check your tickets before entering a room) and asked if there is a chance to buy a poster of Public Enemies, (when of course the movie stops running). He said that they are not allowed, by the movie companies, to sell the posters. "We must throw them away when their time comes." He said. Now, I know how strict Swedes are with rules and regulations (Especially when it comes to their job). But, I thought that this would be a trivial misdemeanor, so I thought: "What the hell?!" and with a low voice looking at the ceiling, I asked: "Well isn't it a shame that you throw them away? And since you can't sell them can't you just … give them away?" He smiled and said: "Well … hmm … I don't know. Maybe if you ask, if you ask …" And he stopped talking, and started walking, looking right and left, checking his keys. I followed all the way to the end of the corridor. Ronnie got up from the bench and whispered, "What's going on?" I said: "shhhh" We followed the dude to a little room and waited outside. 30 seconds later he came out holding "my precious" all rolled up and nice. He looked at me, winked, and passed it to me almost ceremoniously. Ronnie said out loud: "pssss … I would have never gotten it. Happy name day baby" Ah, I got so glad :D
It is a professional poster. And it is SO beautiful!!! It is one of those they put up on the cinema windows so it has a double print. I am SO happy :)
Now, since my "eyelash blinking" works (as Ronnie puts it), I will go ask for other posters next week, hehe. I have a good collection of movie posters and one day we are planning to have a movie room with black walls and almost exclusively black and white posters. This was a good addition and yes, my favorite so far!!! I smile so much my ears hurt! :p
So, it was a lovely name day and a great way to end the summer!
Happy fall everyone :D