First of, some Thursday pictures.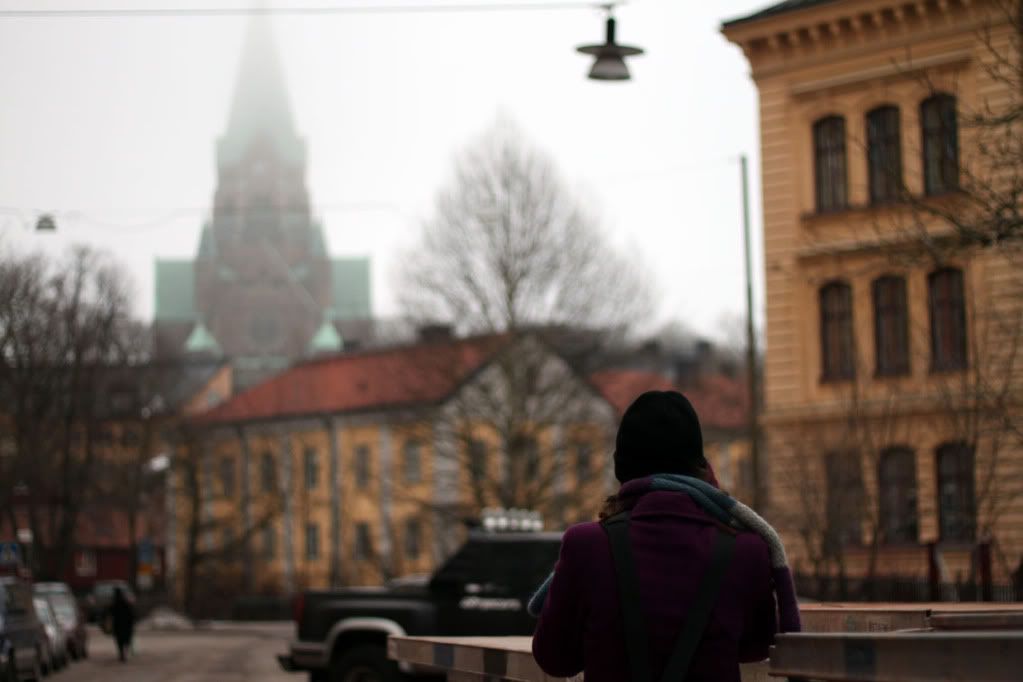 Samantha and her camera I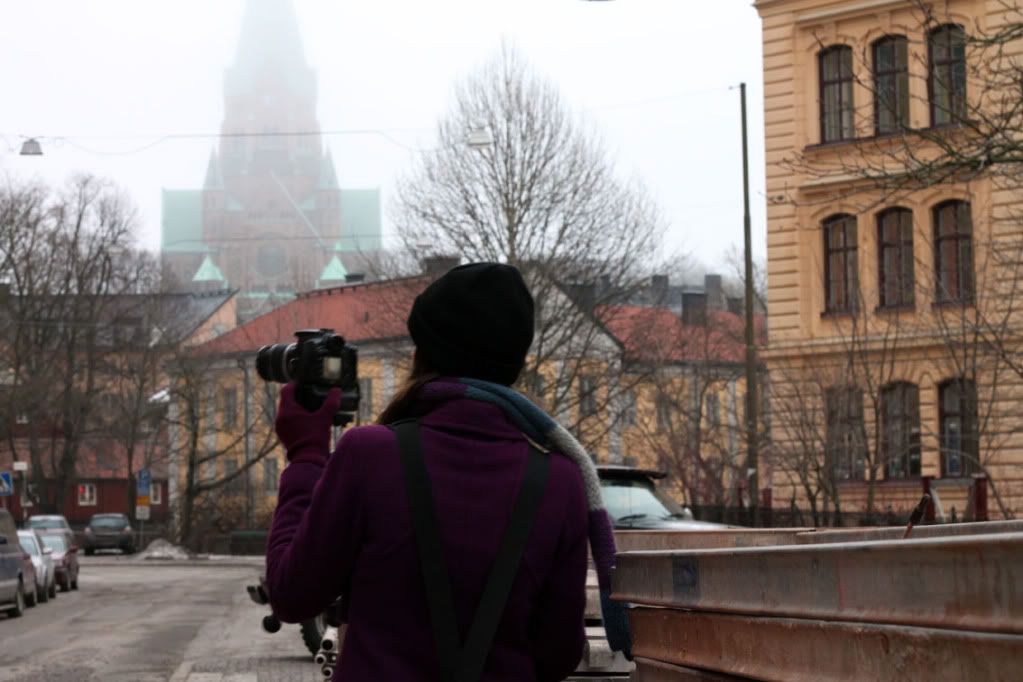 Samantha and her camera II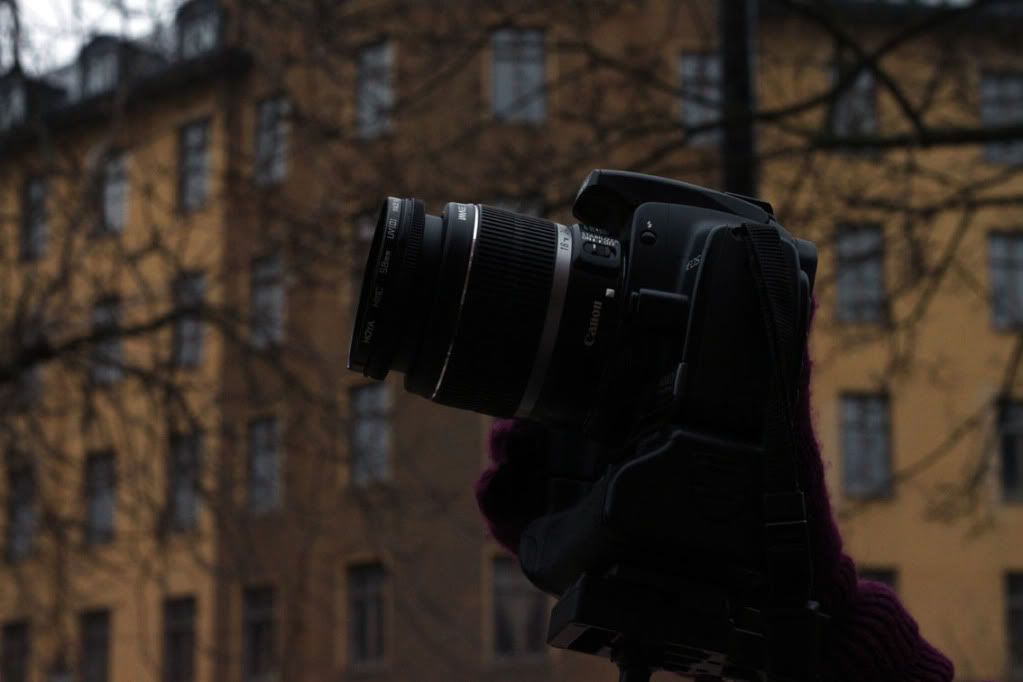 Samantha's Camera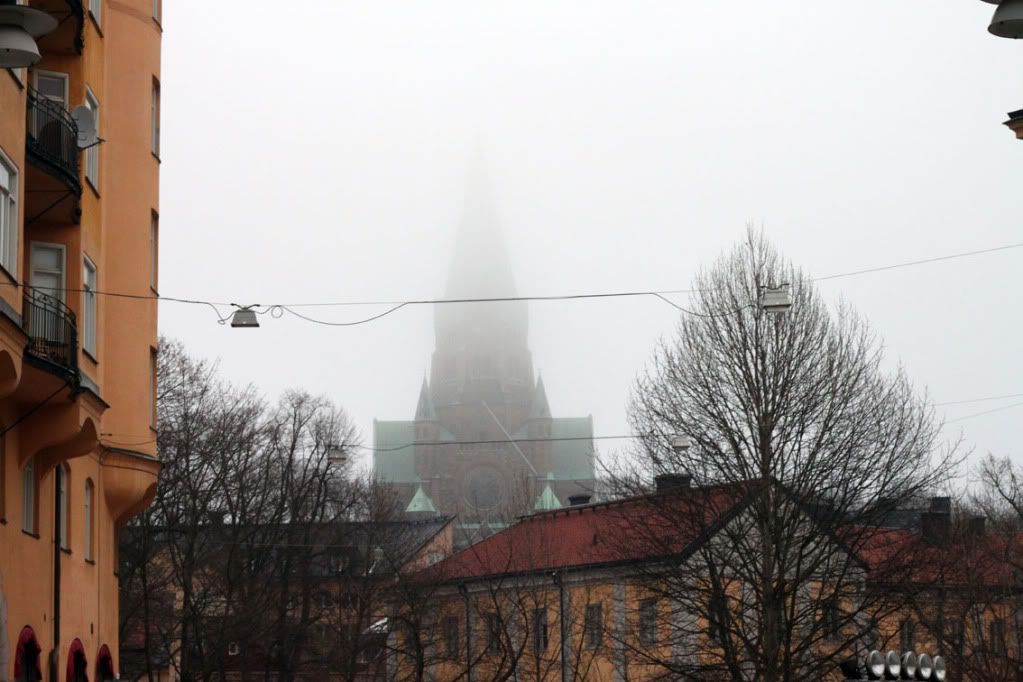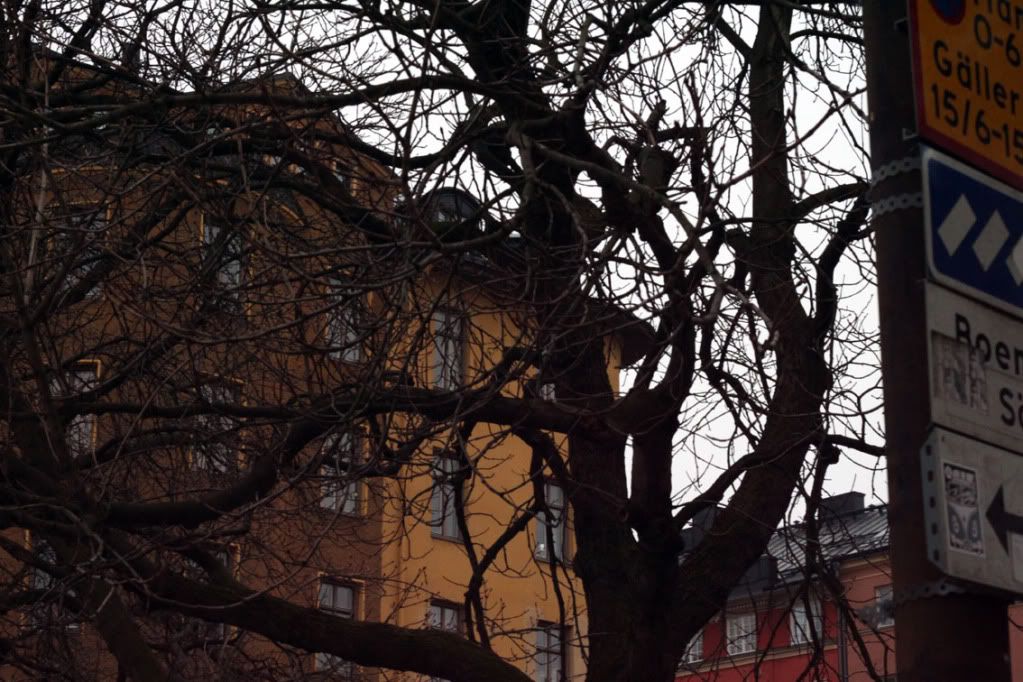 On Friday I visited mother. *S.A.T.H.A. was out on the mountains skiing again (*Sister And The Hordes of Annoyance).
Mother and I had a nice lunch out and then we had some really tasty coffee and sweets over at the Espresso House. Every time I say I'm going on a diet something happens and I eat more than usual. How about that?
On my way home I made a stop for some night pictures for the picture project I have with Samantha. And yes, If I used my tripod I'd take much better pictures, but I'm getting there.
After I returned home, my man had baked an orange-chocolate cake in our new oven.
Oh yes, we got a new oven. Not spectacular as I wanted, but good enough for this kitchen:) And finally our cakes are delicious again:)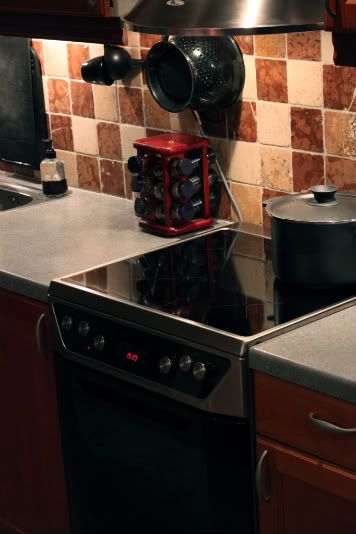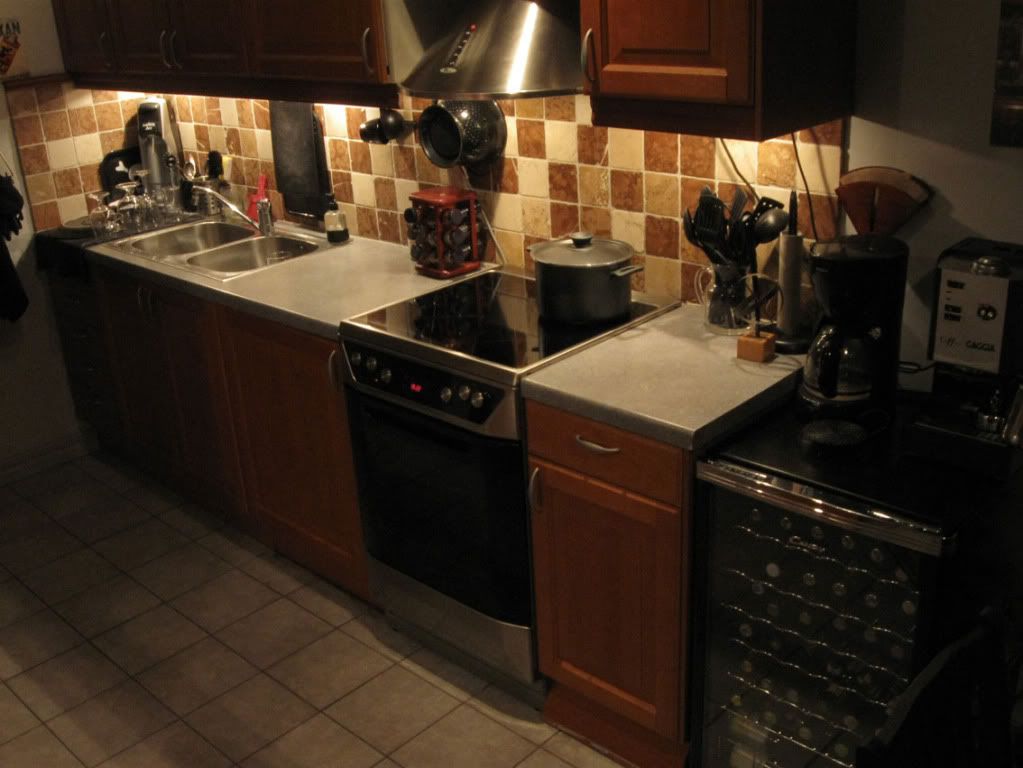 Ronnie's cake was SO good I ate 3 pieces. Disturbing. Next day I ate 3 more … I ate half a cake in 2 days! Diet schmiet! But it was a bloody magnificent cake! I can never resist temptation! Ever!
Saturday we went to the Vintage Fair but the line was so long it made me dizzy.
Take a look at that!!!
We also had plans to go to the theatre that evening so we decided to skip the fair that day all together and go eat at the Italian pizzeria.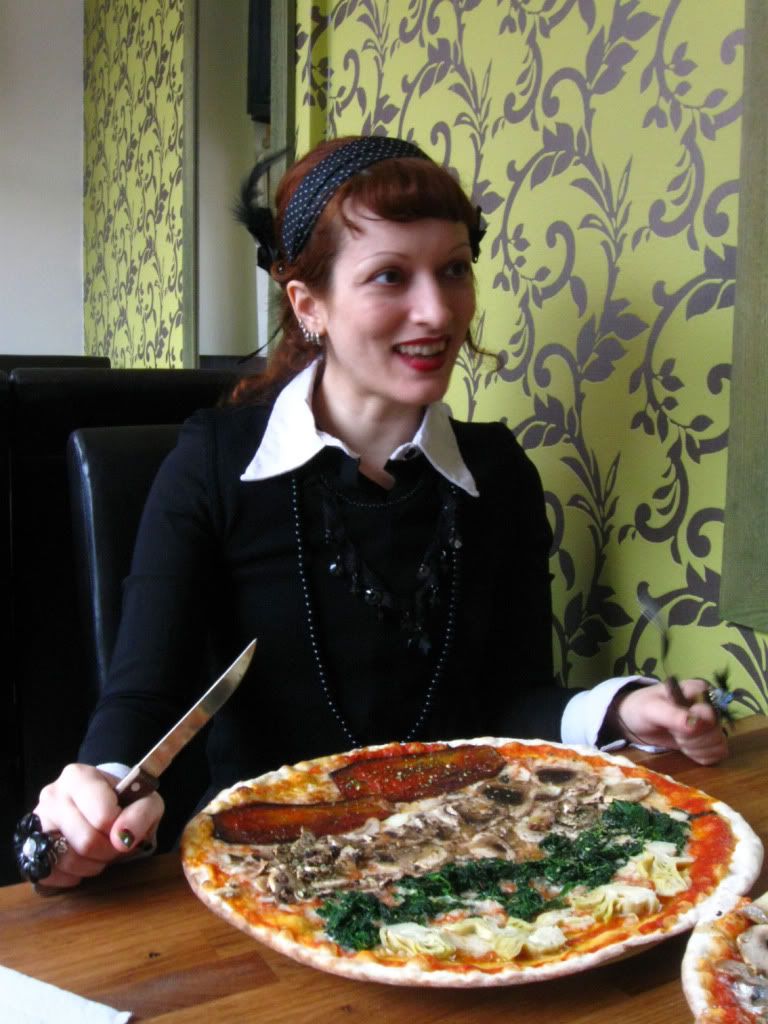 ok i look like an idiot but it is a rather funny picture. I love the wallpaper!!! It matches my hair!

Amazing pizza by the way but what is it with pizzerias and really BAD cutlery? I have yet to go to that pizza place where the knives are sharp. I got a cramp trying to cut this hole thing … I was eating so slow that I got full and hungry again by the time I was done.
It was a particularly beautiful foggy day! I wanted to take thousands of pictures but alas, since we were out almost all day we didn't bring the camera with. I of course had my mini camera with me, but the batteries died after a couple of pictures :(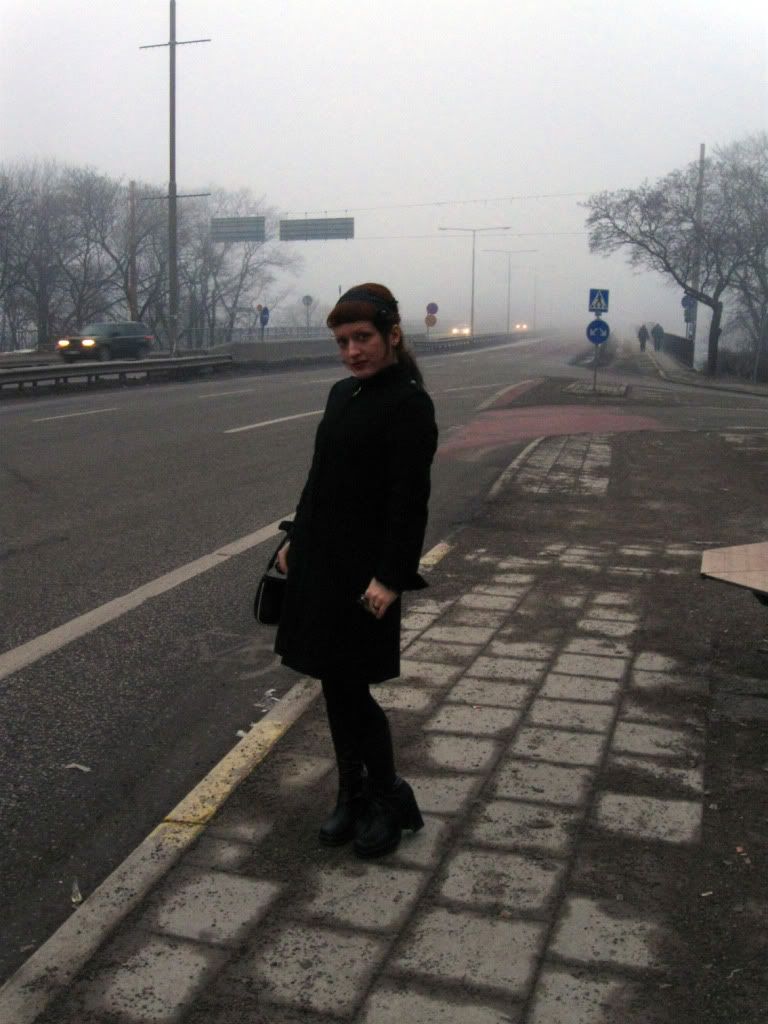 The fog was crazy intense. I love this time of year. When the snow and ice from the lakes starts to melt and this heavy fog covers the land!!! SO beautiful!!! Soon I'm gonna post good fog-day pictures!
So we took the bus to the next island and went to the theatre. Improvisation&Co Is my favorite improv group. I love love love improv theatre. It is always an adventure! And if the audience is cooperative and imaginative, then you can get an amazing result. The improve singing is also remarkable. I so much admire people who can do this! I cannot wait to see their "Improve Mock-Eurovision Song Contest" Two years ago it was really good, but was abruptly interrupted by rain (it was on the summer theatre 3 minutes from my flat)!!!
So this Saturday the show was great, it was called "Chocolate" and we got a little bag with chocolate at the door. The moment they gave it to us they said that this is a little gift, but it is to save for the show. I said to Ronnie: " Wanna bet the old folk will eat the chocolate before the lights go off?" He smiled while hanging my coat. The moment we got to the lobby, two old ladies munched ALL the chocolate in the bag with some nice cup of tea! Lol. I think old folk are SO grateful they get a present, whatever that is, that they just stop listening. So when the person at the door said: "Here is a little something-something for you but you should save it for the show" The only thing the old ladies could think was: "Oh how NICE, we are eating chocolate! I have diabetes but it is OK, I mean how OFTEN do I get free sugar? Oh boy oh boy oh boy!" When the show started and the chocolate time came all the old folk was red in the face. Hehe. It was funny but also sad … so … if you know any old people … pay more attention to them … they are surely very neglected.
I'm thinking to go to their other show called "Action Improv" as well. This one is in English so I am very curious to see how well can one improvise in a language that is not his native. I've seen a couple of videos and all I could think was: "wrong grammar, funny accent, wrong grammar, funny accent" But one cannot tell from a clip. Improv is a result of coincidences and group inspiration and effort, plus the audience play a big part. So the little clips they have online are not very true to what really goes on.
I love the theatre. Every time I go I remember how much I like it and how much I've missed it. Now it has been a long time since last time. Almost a year. I won't let that happen again.

After the theatre we grabbed a quick yet delicious beer at Bishop's Arms in the City.


Here are some pictures Ronnie took, he played around with the camera this couple days. Ah yes, it is me ... AGAIN ... how vain am I ey? Well a lot. But now I just want to have memories of nice hair and interesting outfits ... I may as well put this in private but hey ... it's not like I'm showing my boobies or anything ... so well ... here is some vanity ;) Who knows, I might give you ideas :p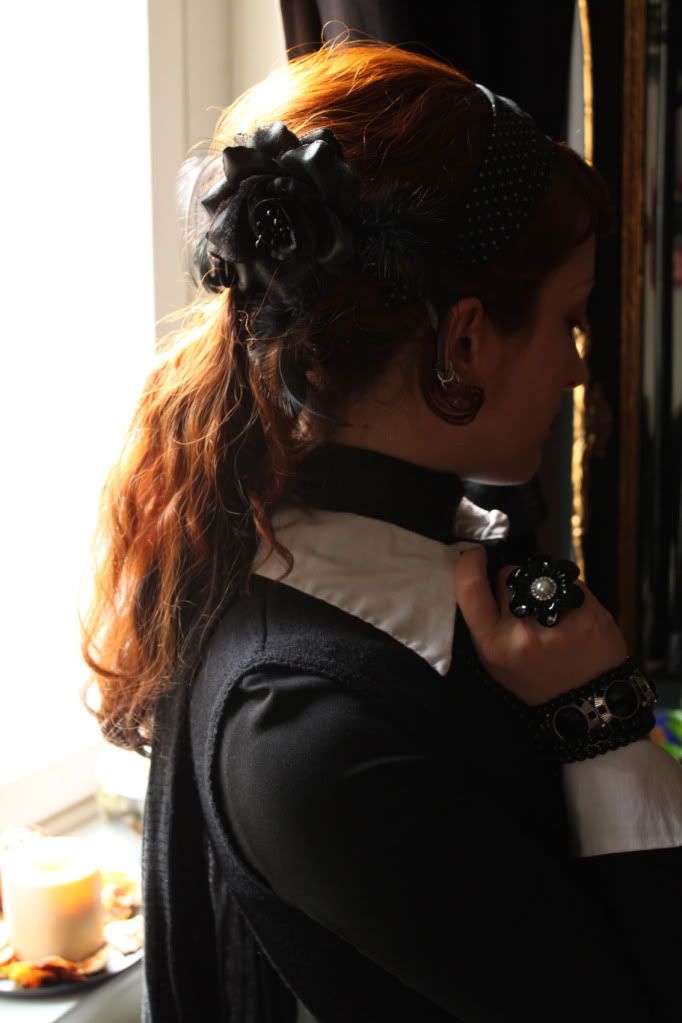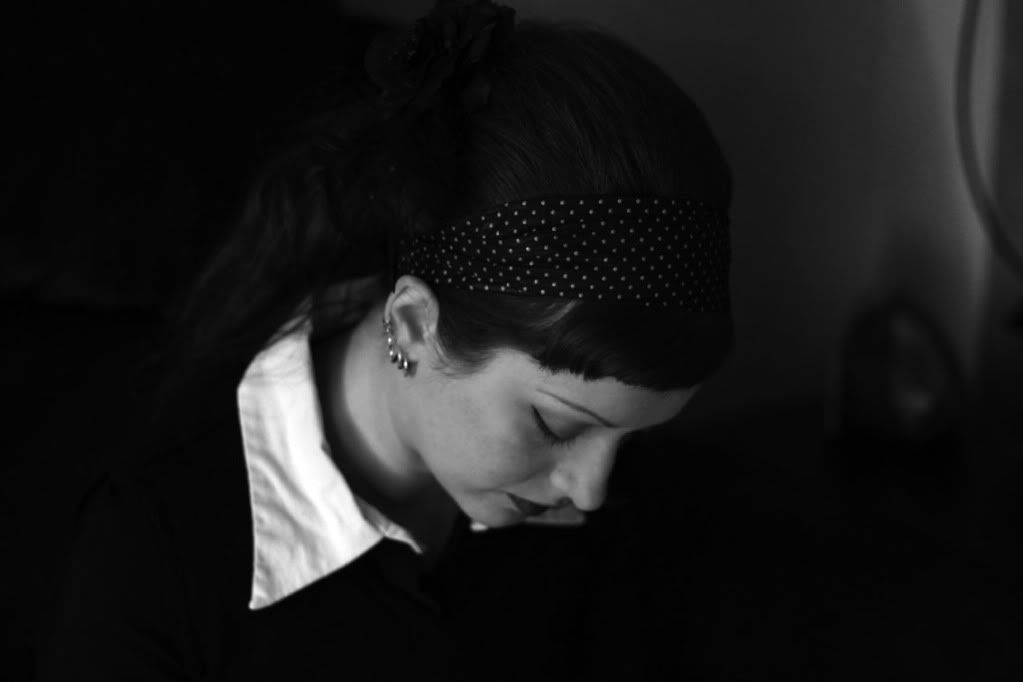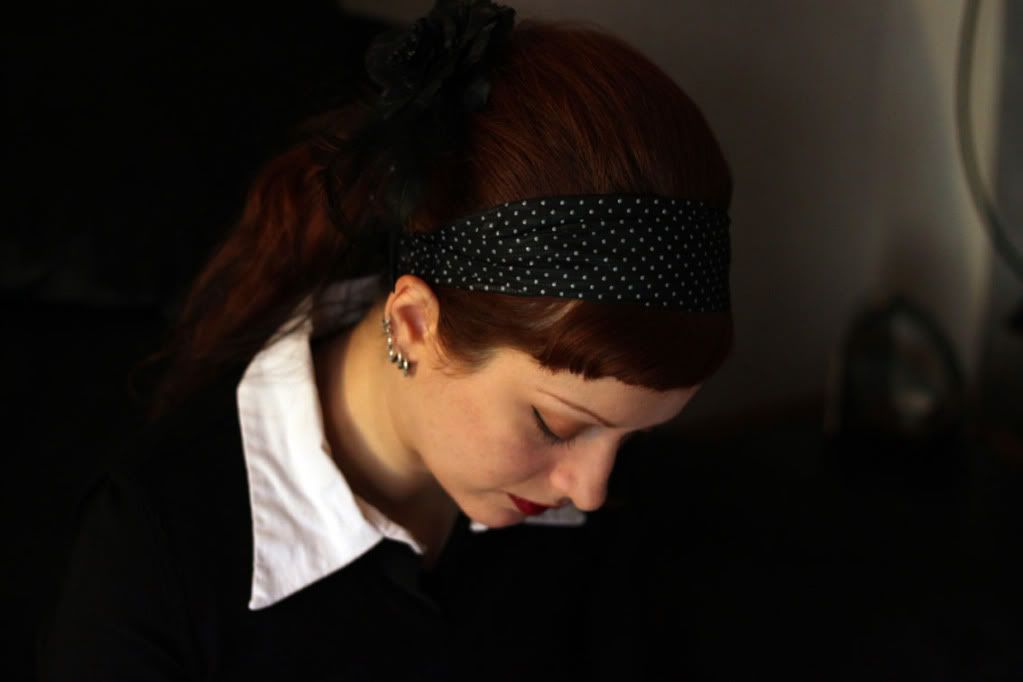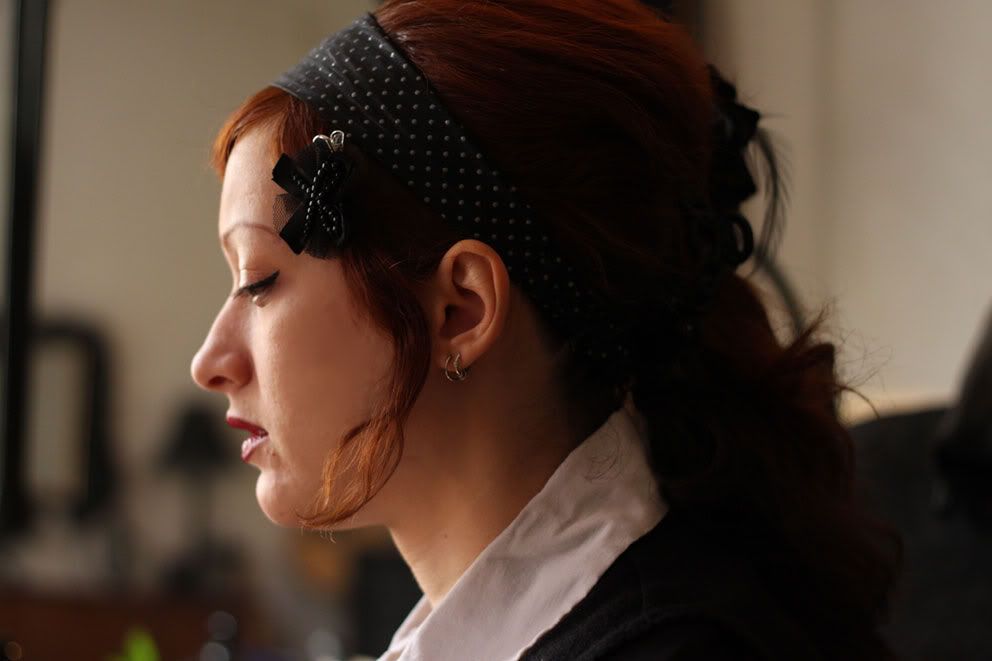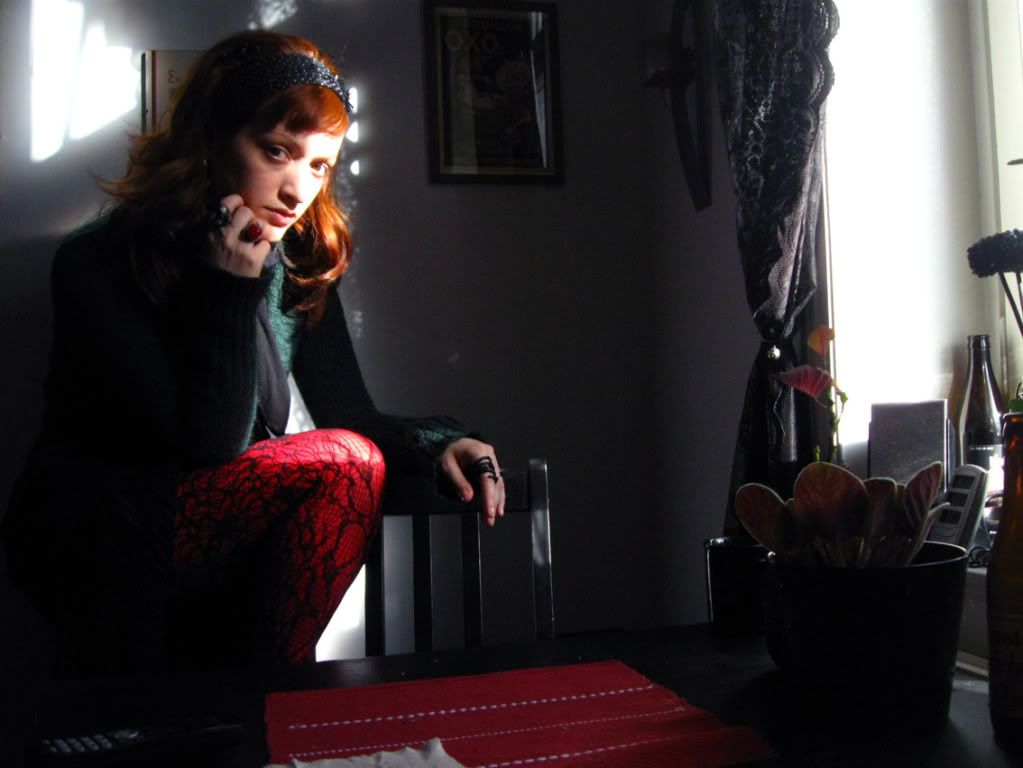 By the by, this is my green thing ... it sticks out in my closet like a fire cracker ....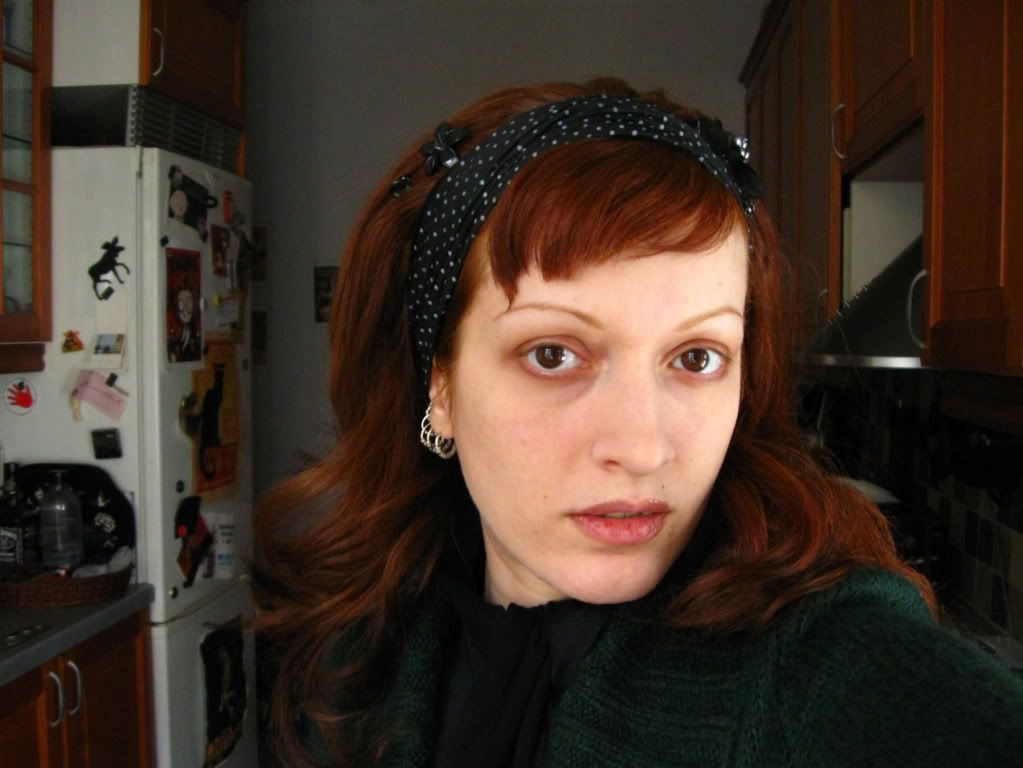 Yeah yeah I bite my lips and I look like a cross-eyed drunk mongo badger ... Meh who cares ... the point of this picture is the color of my hair!!!! I looooove it!!!!
Sunday I went to the vintage fair. Yes it was 2 days in the row.
I actually saw many pretty things but nothing that made me go find a cash machine. But I came to the conclusion that my absolutely favorite stall is the
vintagebutiken
, I always find stuff I like on their booths. It is the same place I bought my
60s socks
last year.
I was thinking that it would be really hard for me if I'd actually manage to open my own vintage store … I wouldn't want to sell anything … I would be like Aziraphale
With his books ;)
Ok now suddenly I got really bored writing this …
I'm off ...
I have games to play :p


Oh by the way, on Thursday there is a Smoked Beer festival at Akkurat and on Saturday it is my birthday and I have absolutely no idea what I want to do …. It is good Saturday ... or long Saturday ... or whatever the Bloody hell Saturday ... it is a day before Easter day ... so .... I have no idea what to do ... I nicely avoided the family ... both families actually ... I do not want to be depressed on my birthday ... It is the one day I can say NO to all of them.
I want to got o a rockabilly party … yes … that's what I want to do … my super Goth boyfriend cannot deny my wishes on my birthday, well, or ever, but especially on my birthday :p
I need to research …
Any ideas?


Toodles …