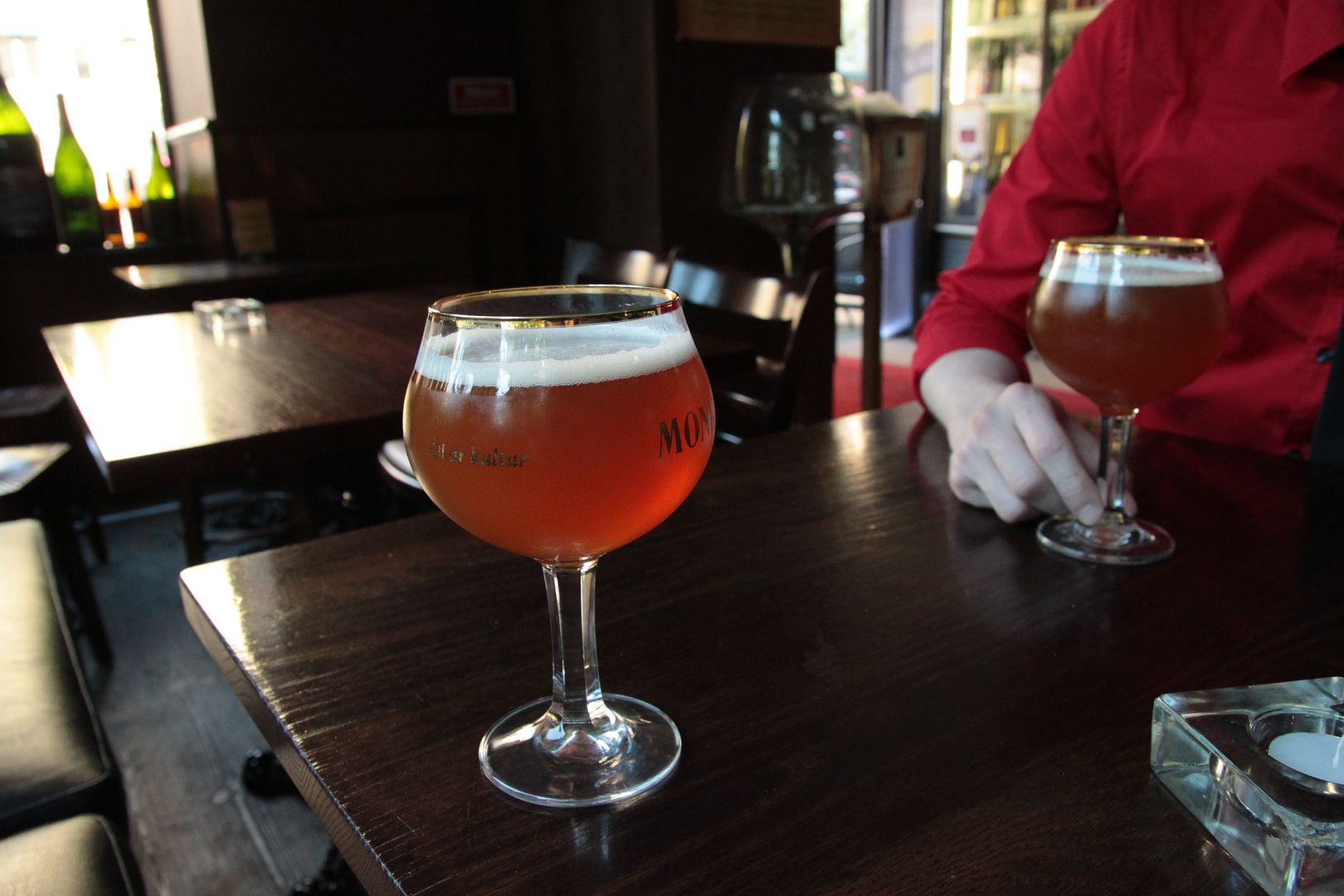 So visiting Monks last week was again an experience. We tried one of their own IPAS which was really summery and really fresh and perfect to quench out thirst after our long walk from
Hagaparken.
But of course I don't remember what it was called. However it looked like this ...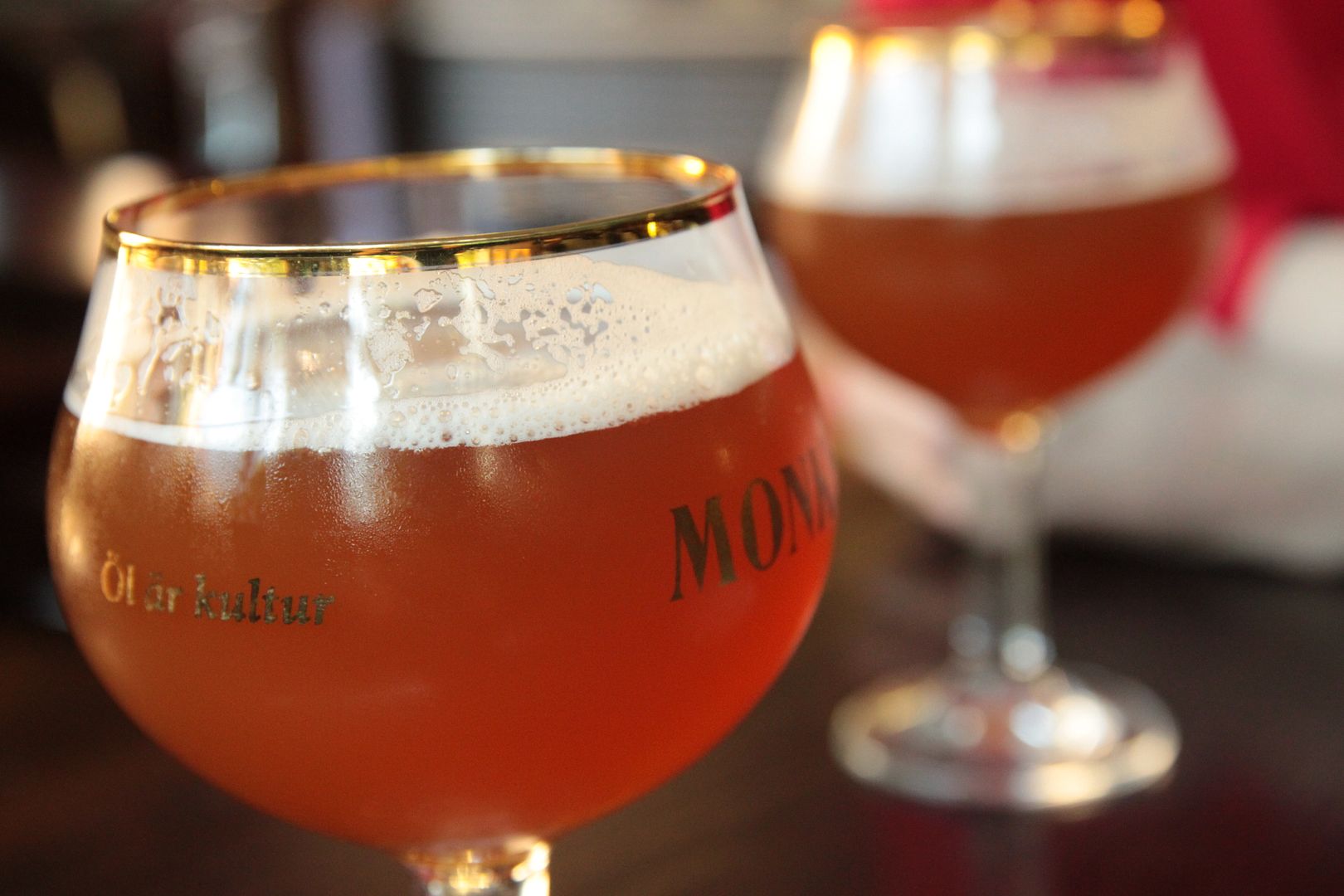 And it tasted good! :)

(If you don't live in Sweden then it's not interesting for you anyway. But if you do, then go to
Monks
and try it.)


Before I move on the the reviews I must make a little note here.
This is information for my people here in Sweden
If you go to
Monks
you must try
Kloss
*
!!!
We did!!!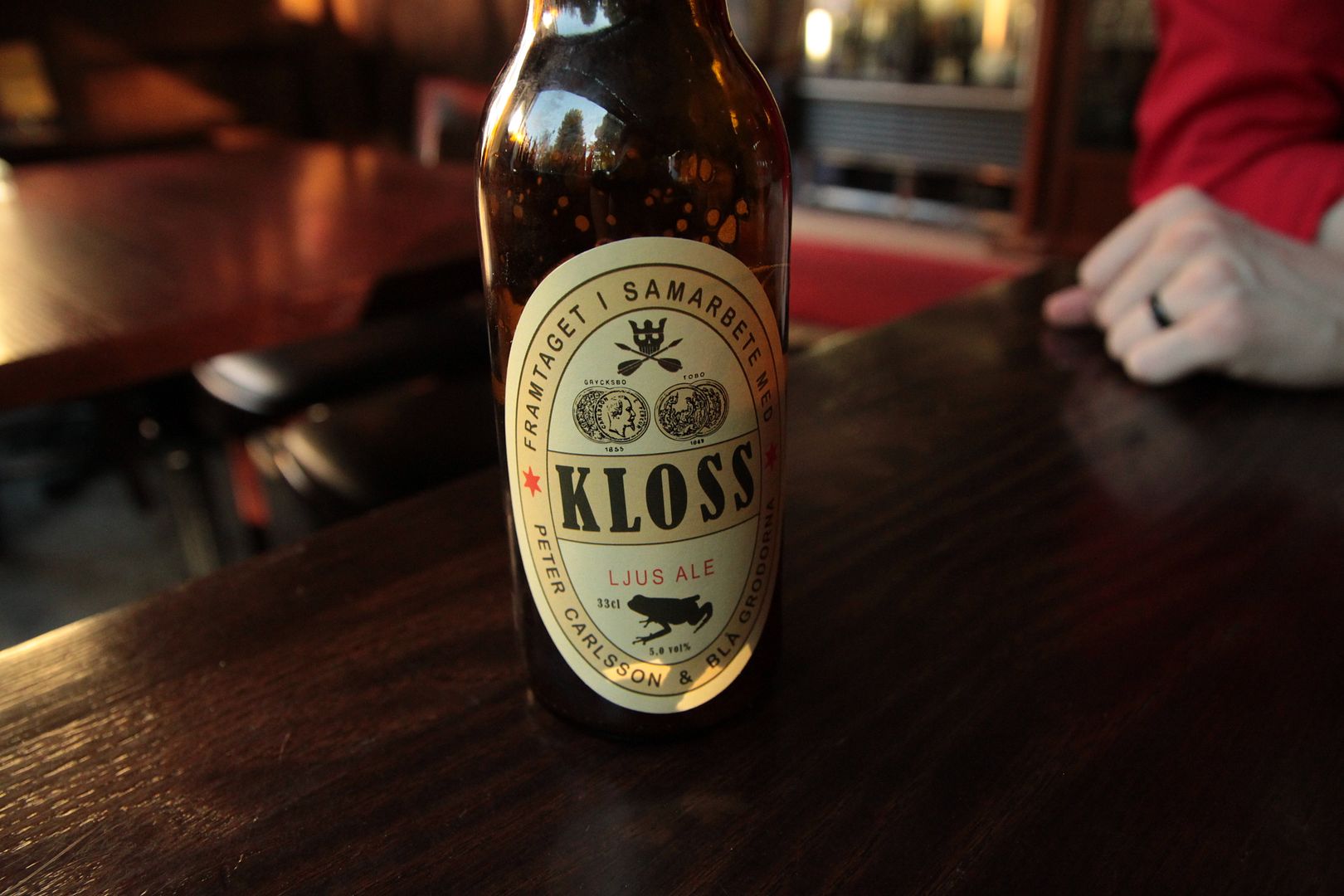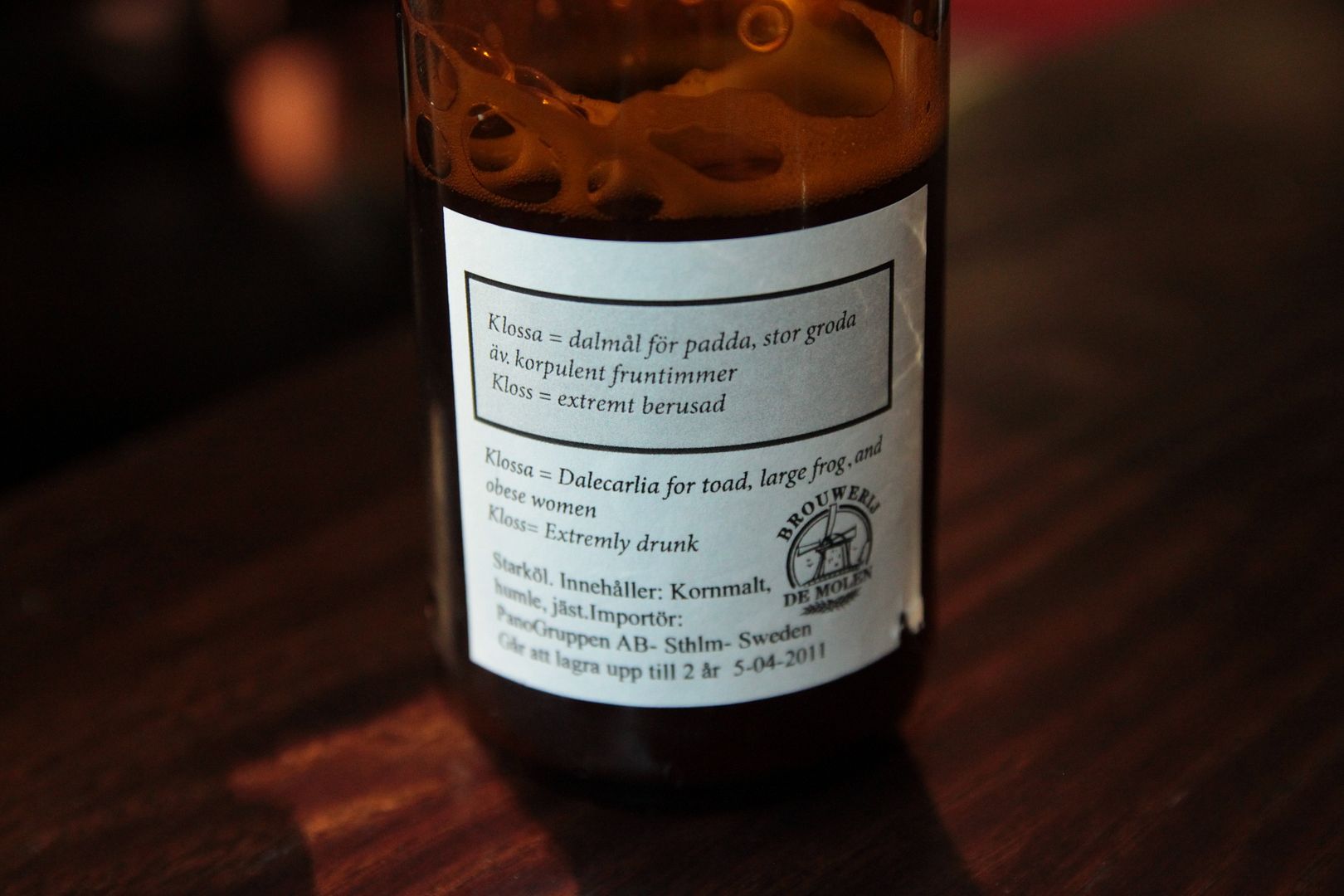 The taste was intensely pure and simple. If one can say this. It was Spring and summer married and living in a perfect harmony. It had the fresh bitterness of well grown hops. Flowers and fruit light sweetness in the back of your mouth with a lingering flavor of freshly cut grass.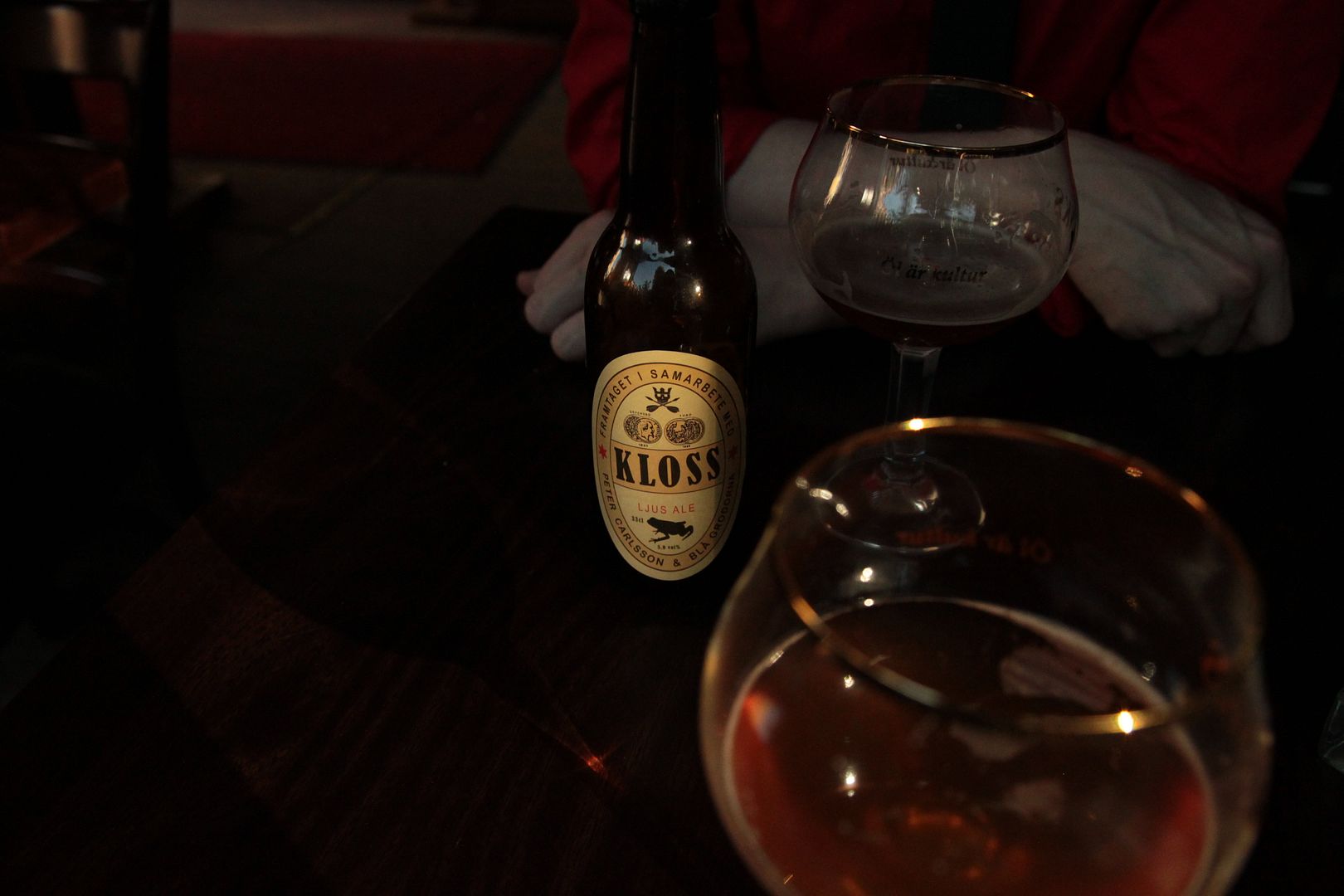 Rather poetic me thinks!!!!
*
There is a story behind Kloss but the thing is, if you do not live in Sweden you are probably never going to taste this baby (unless they decide to make more or present it in some festival). And so this story is interesting only for those living closer to me :D
Ett utdrag ur Peters berättelse:
"Vi har verkligen inte sparat på krutet när det gällt att få fram allt från de allra finaste råvarorna. Här finns malt från Tyskland (pilsnermalt, Vetemalt & Ljus Karamellmalt) , stora mängder humle från USA (Citra), England (Fuggle) & Nya Zeeland (Paccific Gem), samt lite limeskal för att toppa karaktären, beskan har landat på moderata BU 33 inte en jättevärsting utan en välhumlad blond ale, men ändock gränsande till det nu så moderna IPA landet."
Moving along to this party: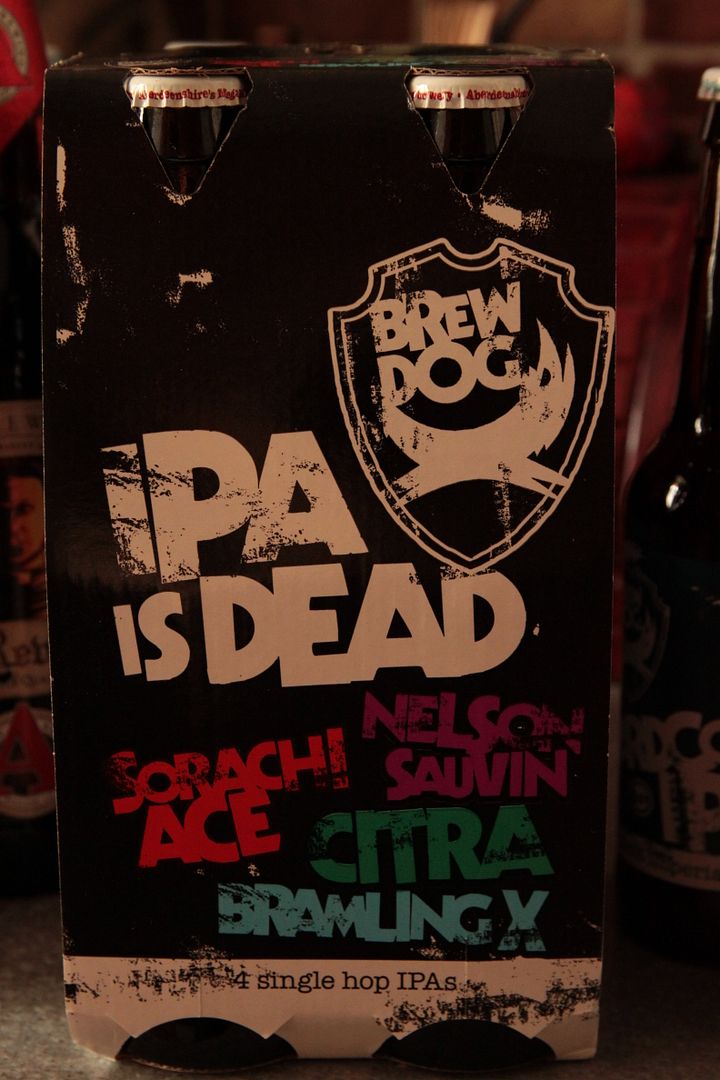 I started tasting the
IPA is DeAD
(four different beers, four different hops).
I started with
Sorachi Ace
and
Bramling X
.


Bramling X
was rather forgettable. Fresh and very very drinkable. But very kind, very mild, for my taste.

Sorachi Ace
on the other hand was really really special.
Very interesting flavors with an intense smell and taste of artichokes. Nice bitter finish
, great aftertaste of fried
artichokes and goat cheese
!

(I know right!!!!?!!)
The other two from the group I haven't tried yet.


We drunk
Soft Dookie
( I know it sounds preposterous but the Dane is craaaaaaaaazeh!!!)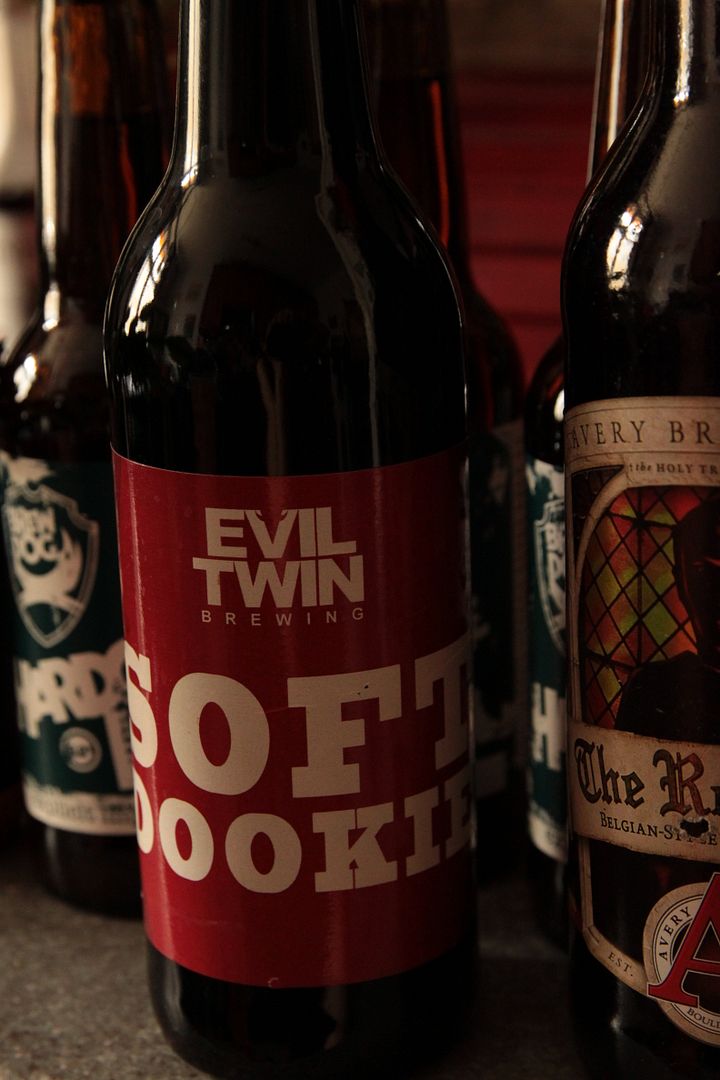 Oh ... MY ... God!!!
This was ... indescribable!
Milk chocolate, fresh cocoa, espresso, roasted almonds, thick chocolate creme, INTENSE vanilla taste.
Very very smooth and creamy finish, filling your mouth with notes of roasted angels straight from heaven! Okay the last one was an exaggeration (duh), but this is THE stout baby!!! How can a delicious beer like this have such a terrible name? Well it can if it is made by a crazy Dane! :D
Absolutely amazing Stout If I had to give it a number it would be 10 out of 10. I am not big on reserving numbers. People say there is no ultimate movie or ultimate taste so you should never rate 10 out of 10 anything!
I say, this is bullshit. If you think it is ultimate, then it bloody IS ultimate!!!
And this Imperial Stout, imperial indeed, is on the top of my top 10 Stouts!!!!
No it is not a Stout, no ... it is a bloody ORGY!!! ....................................... OF flavors :D

Moving along

Oppigårds Pale Summer Ale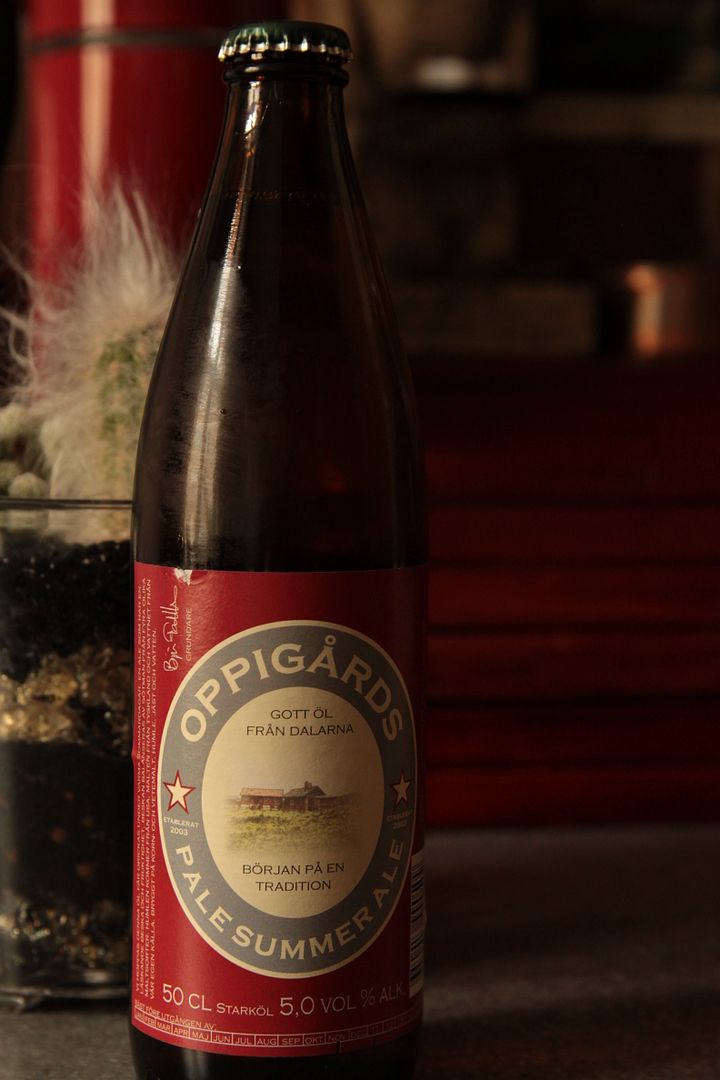 Mmmmm ...
Beautiful things again coming straight from Dalarna!
Now this beautiful Swede is what you want to drink under your Gothic parasol, warped with your black summer linens, under a tree by a lake, in a summer day ... Or at least, this is me.
Fresh and spicy with hints of daffodil leaves, mild lovely bitterness with a splash of wet grass.

Then we have
Hardcore IPA
.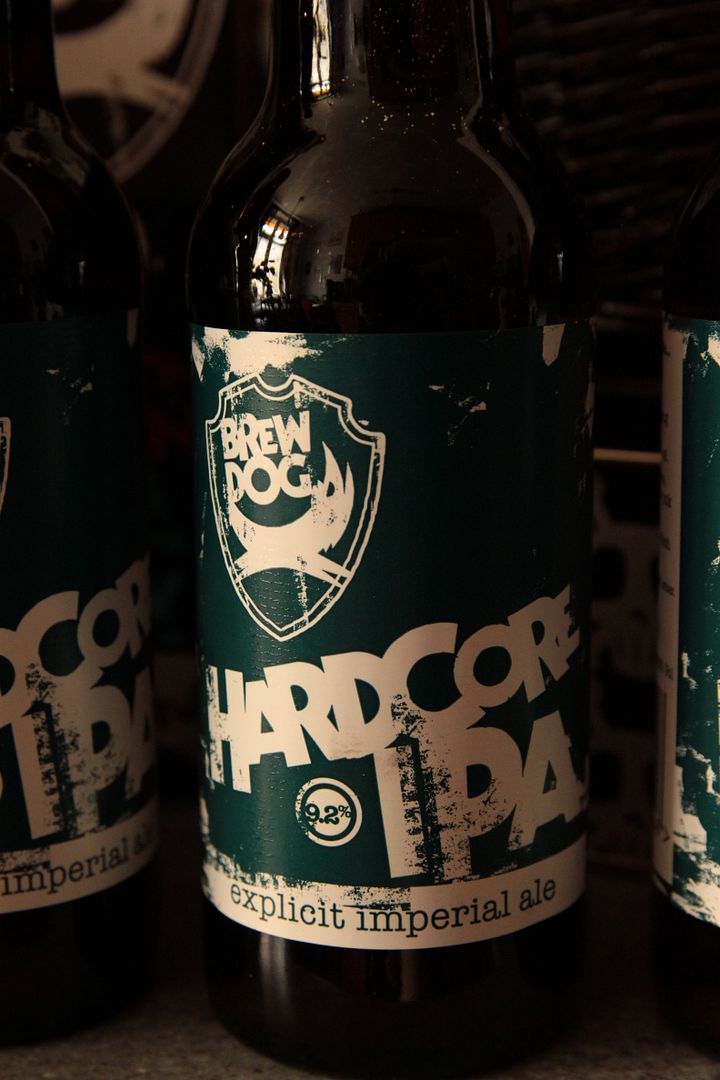 Yes this is one of the best beers in the world!!!
The English may not know how to make beer but the Scots surely do!!! I don't know what else to say here. Bitter, strong, and hardcore! This beer is Sexy! I can not really elaborate!
I fucking love this beer!
But it is not for everyone. You have to be an IPA enthusiast. OR at least a real beer enthusiast, to appreciate the work done to this baby!
This is how the brewers of this lady are describing her:
This explicit ale has more hops and bitterness that any other beer brewed in the UK. This is an extreme beer roller coaster for freaks, gypsies and international chess superstars.
Hehe, I could not describe it better myself!
Weirdly smooth for an IPA, without the kick of hops that overtakes every other flavor, yet slowly building a festival of flavors ... herbs and spices and citrus-y fruits and caramel malt that allows the sugar softly to land on your tongue and then SHMACK you get a punch right in the sniffer .... bitter ... bitter ... bitter ... aaaaaand heavenly nirvana ... since it is quite strong .....
Ah .... enjoy this insane Scot going commando on you ;)

Then, and with this one I 'll have to finish, we have
The Reverend
!!!!!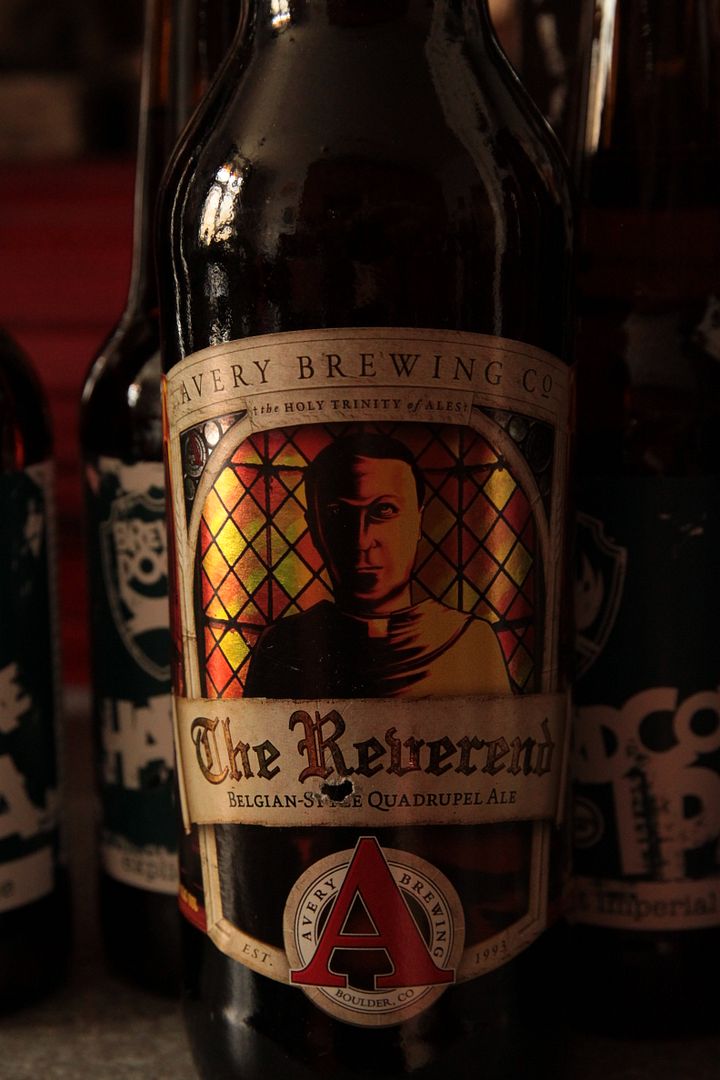 Ah!!!! A beautiful beautiful Belgian Type American beer!!
I've said it before, I'll say it again, and again in the future .... Americans make better Belgian beers than the Belgians! What can I tell you?
Americans just make it better! Maybe because they want to prove that they can ... or .... they just can man!!!! ;)
This is a typical Belgian Type Ale, but it has much of everything!
An abundance of herb-y flavors! Great balanced sweeteness, sea salt, clam
s, grilled mackerel
and roasted caramelized apples dipped in sugar!
A great ale!!!
Yes, this one is rather sexy as well.
However, as my boyfriend says, we are a little tired of this type of beer. So the neighbours did not hear moans of extasy when we tasted it, as it would happen if we'd try this beer three years ago. Yet, I must say that this is one of the best Belgian Type ales I have tried in a long long time!
Find it, drink it, enjoy it!



A little note before I close.
People might think my reviews on beers are pretentious. The thing is, I am just trying to describe what I taste and I smell. Exactly what I taste and smell and nothing more or less. But that doesn't mean anyone would taste and smell the same things out of a glass. I might be way off. I have no idea. Sometimes I might say something like: "I taste the wet earth of a farm somewhere in North Carolina!" And you'd say "How the FUCK do you know how THAT tastes woman!?" Well I don't. But this is exactly what I taste! It is a collection of memories, dreams, movies, childhood memories, feelings caused by various smells, experiences, people, foods and molecules in the air ....
And yes, this is not the correct or proper way to review beers, however, I know I have made some people curious enough to try this and that, and release themselves from the commercial PISS they are forced to drink calling it "beer". And that, always makes me happy!!! :)
Cheers!!!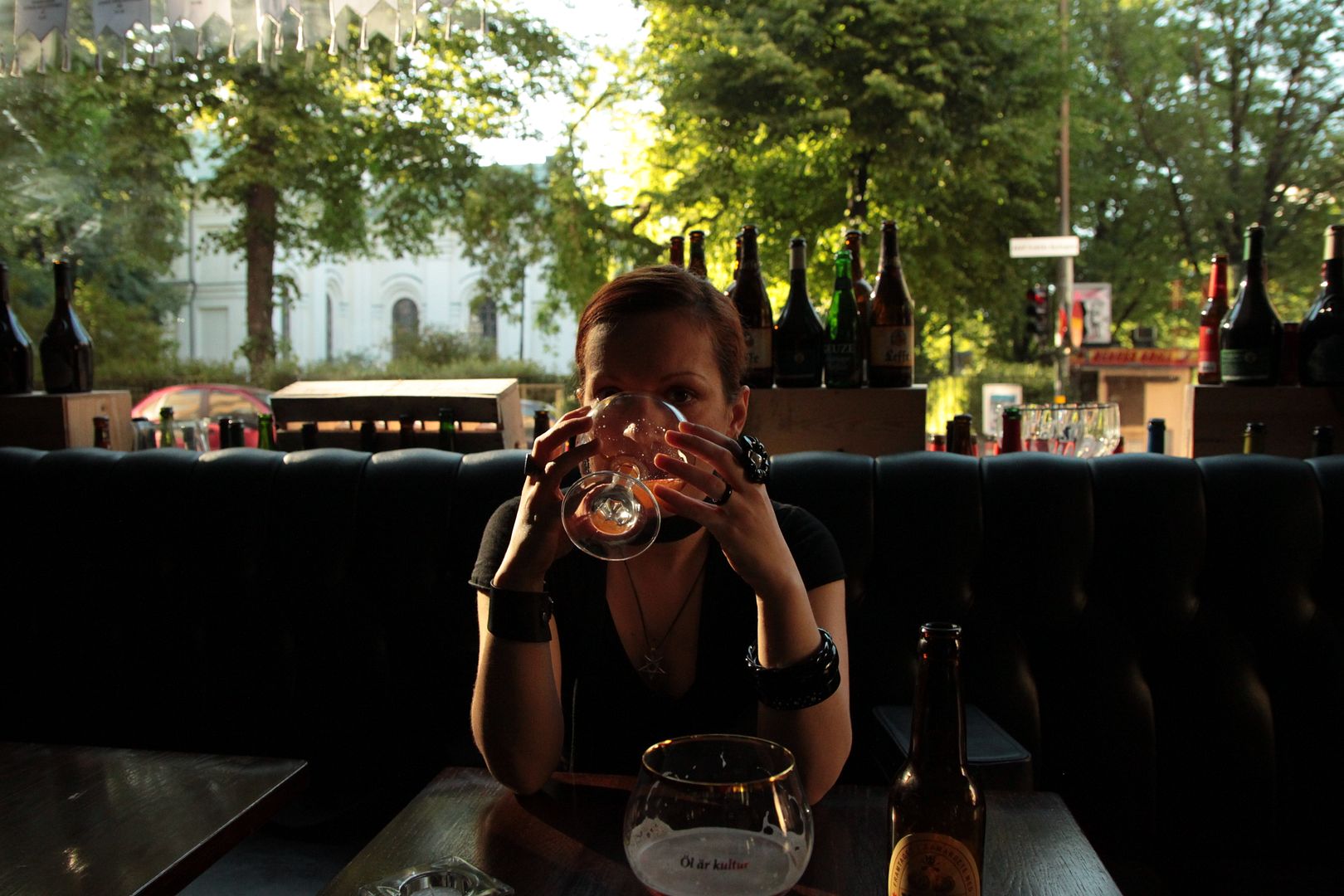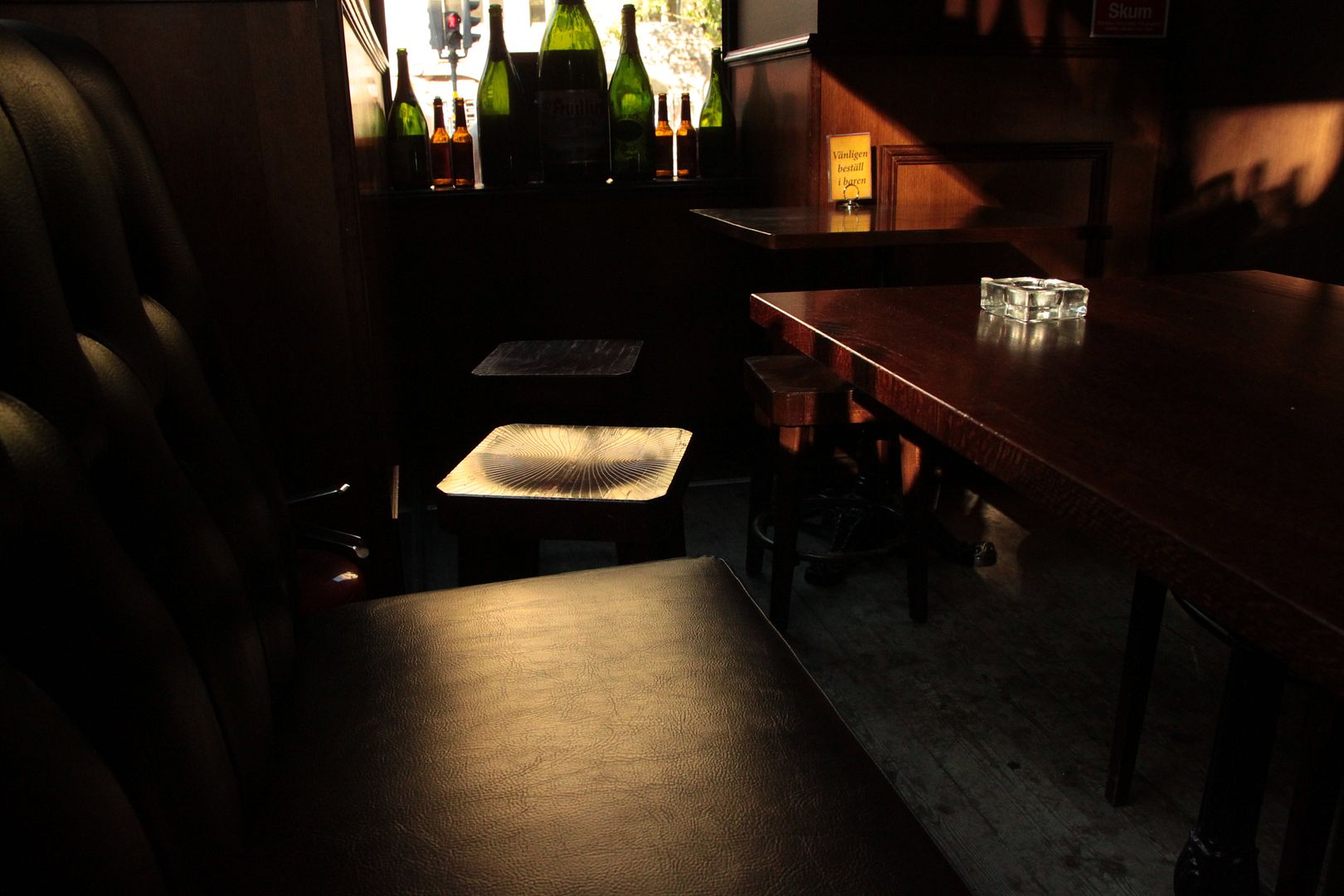 See ya!