I hope I will inspire you a little ;) Happy drinking :D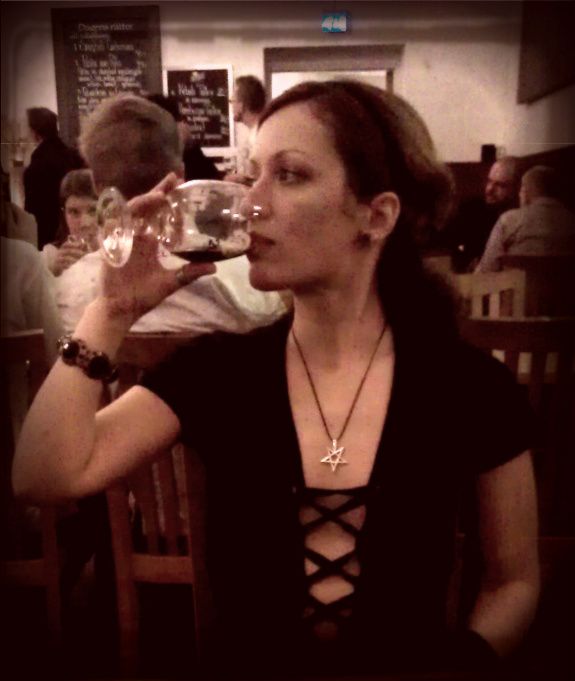 So, on the 7th of October 2011 I went to the Beer and Whiskey festival with Henrik. It was my fourth time (I think) And his first. We tried 35 beers. Not bad for being just the two of us ;)
We met some friends but we mostly hang out alone.
Henrik was mesmerized by all the foamy goodness :D
We did not take pictures ... just a few Henrik took with his phone...

Here is my review finally after 4 months. Better late than never ...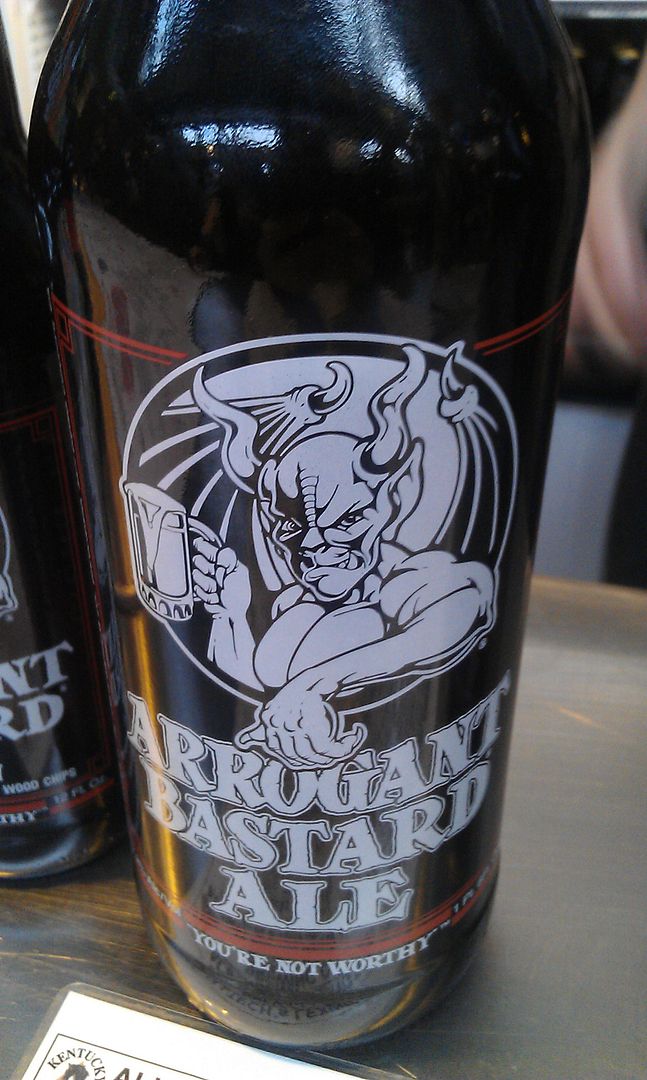 Many of these beers I've tasted and reviewed here before. Some of them in this link:
http://lantichristo.livejournal.com/170965.html




Last NOTE: my reviews don't make a LOT of sense or are any close to a real beer review but i think it is fun to just copy here what I wrote on my paper ... The ratings are both mine and Henrik's. A stands for Alexandra and H stands for Henrik (duh) ...

so here we go ...

Evil Twin
Been Smoking Too Long

Muddy, caramel, tad smokey, some fruit, coffee, sour fish

A: 3,5
H: 3

--

Dugges
Idjit!

(well I've had this many times but couldn't help it)

Cherries, baked cookies, coffee, burnt caramel

A: 4
H: 4

--
Dogfish Head
Midas Touch Golden Elixir

Bread-y, flowery, spicy, but kind of disappears

A: 2,5
H: 2,5

---

Left hand
400 Pound Monkey IPA

Watery, lager feel, footbath

A: 1
H: 2

---
Djævlebryg
Dark Beast (Black IPA)

Buttery, smooth, slight hop feel, sticky, coffee hop

A: 4
H: 4,5

------



Djævlebryg
Son of Nekron

(tasted and reviewed before here: My Christmas and Winter Ale 2010)

Coffee, chocolate, burnt wood, smokey chocolate

A: 4,5
H: 4,5

----

Brew Dog
Black Tokyo Horizon

Chocolate, malty, coffee, cherries, burnt sugar

A: 2
H: ? (Henrik never gave it a rating. maybe he gives one and I'll update)

--------------

Brew dog
Tokyo

Bitter, boozy, coffee beans

A: 1,5
H: ?

---------------

Moylan's
Hopsikle IPA

(tasted and reviewed before last year here: Beer&Whiskey Festival 2010 I seemed to like it even more this year ;) )

Very spicy and as it grows it gets a feel of peaches, citrus-y hops, freshly cut grass, dry finish with a sense of heavenly summer rain, flowery and intense.
Fucking perfect!

A: 5
H: 5

----------------

Shipyard
Smashed Blueberry

Chocolate blubbery, coffee fruity, VERY weird beer. I am really not sure if I liked it. I think I did.

A: 3,5
H: 3,5
--------------------------

Ska brewing
Steel toe Milk Stout

Sticky, milk chocolate, kind of disappears fast, ok but not very impressive.

A: 3,5
H: 3,5
--------------------------

Hopworkss
HUB

Rather interesting but not mind blowing IPA
a bit unbalanced but not as intense as I prefer it.
I would never say no to it though and I'd definitely buy it if it comes to Systemet.

A: 3,5
H: didn't try this

---------------------------------
Lagunitas
Lagunitas IPA

Blunt. Simply terrible.

A: 1
H: didn't try this
----------------------

Stone Brewing
Arogant Bastard

(I really don't think we need an introduction but this son of a bitch always knocks me off my socks. Tasted and reviewed quite a few times)

Hoppy, Flowery, spring-y, almond-y, sexy

A: 4,5
H: 4,5

-------------------

Moylan's
Moylans Imperial Stout

(tasted and reviewed before last year here: Beer&Whiskey Festival 2010)
Burnt Coffee beans, burnt yeast, truffles, sweet nirvana

A: 4
H: 4

-----------------------------
-----------------------------
Somewhere here we took a long break to eat :)

This picture I find interesting cause behind me there is this group from Havana Club.
On the second floor of the venue they had the whiskey and other alcoholic beverages that i guess are sponsors ... WHO pays a ticket to the Beer and Whiskey festival to drink fucking Havana Club? Stupid!

There in my hand I have Stone Brewing Arogant Bastard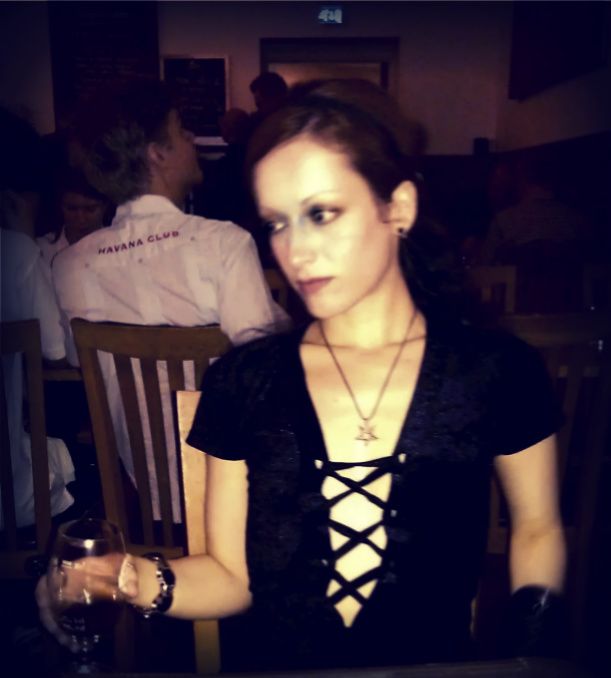 mmmmmmmm


Ölvisholt Brugghús
Mori

(We know him we love him, he is on the bottle. The Icelander. Can't pass on an opportunity to taste a little Mori >_<)
Sweet, sea-shell-y, gooood!!!

A:4,5
H: 5

--------------


Hoppin' Frog
Double IPA

A: 4,5
H: 5
(tasted and reviewed many times before)

Fucking ay!
intense hop combo, malty and fresh ... as always

--------------------
Southern Tier
Creme Brulee (Imperial Milk Stout)

Oh my GOD!
Vanilla, chocolate, coffee, creme and an ending with more vanilla in an orgasmic vanilla finish! Perfect!
I go a lot of it on my dress when a fat bastard pushed me and it kept on smelling beautifully and vanilla-y even the next day!
Magnificent beer!

A: 5!!!
H: 4

-------------------
Southern Tier
Mokah

A: 3,5
H: 4,5

gooooooooood
A little more easy on the vanilla compare to the Creme Brulee. Smooth and relaxing :)

-------------------

Southern Tier
Punkin Ale

In the name of Jeebus! We bloody loved this. We bought it twice!!!
Weird, holiday-ish, very unique, food-y, pumpkin all over, GREAT indescribable finish!!!!

A: 5
H: 5

---------------------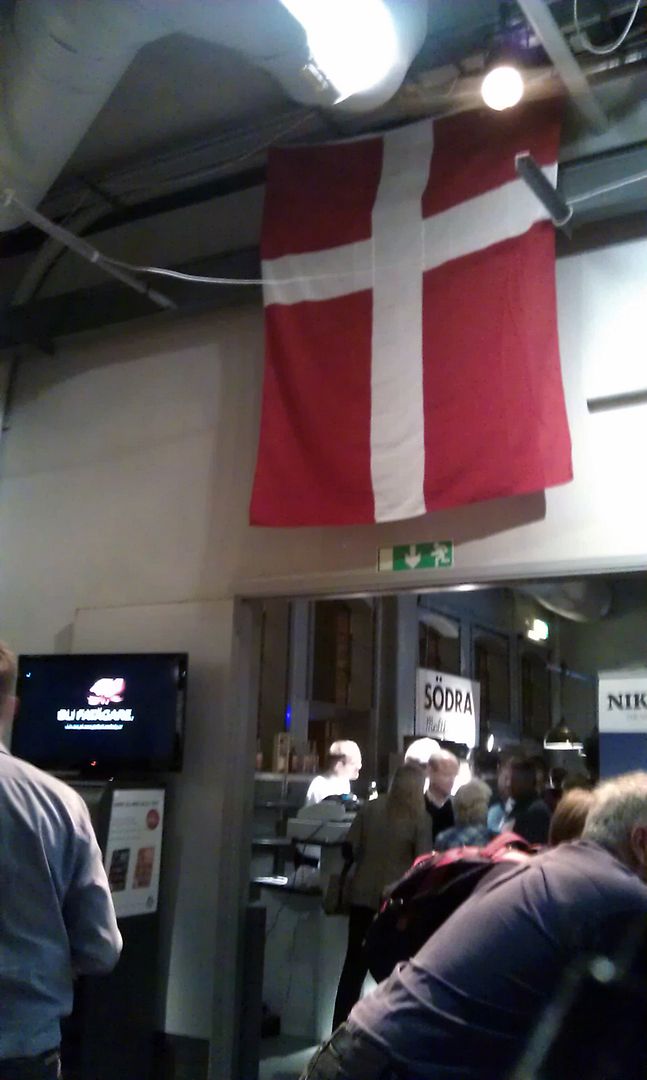 Djävlebryg
Barley wine
Old Mephisto

(tasted and reviewed before. see old link. Great beer.)

A: 4
H: 4
--------------------
Now the following is going to bring a lot of laughter to my Greek friends because it is called Malakias, which in Greek it means "The Masturbator" Or as I prefer to say it in Swedish: Runkaren!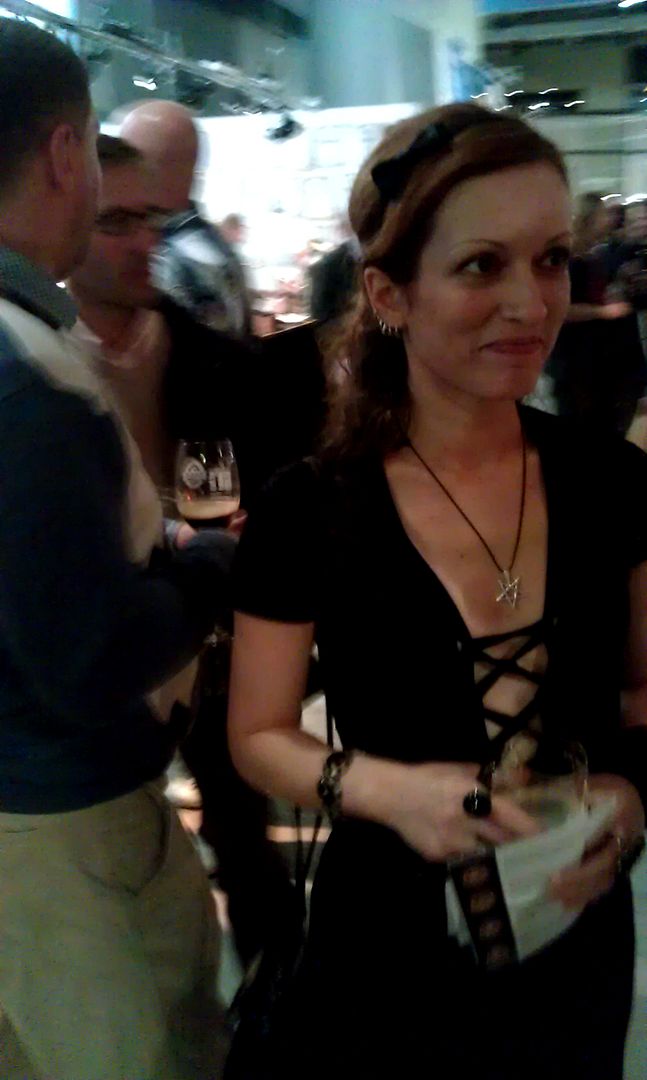 Strömlolms
Malakias


My Lord I died and went to smoked heaven! EXTREMELY smokey, coal BBQ, roasted hay. Whiskey barrel woody strong hints! Fantastic beer if you are into smoky/whiskey stuff!

(It is was released on Systemet Thursday the 1st of December. I gots my one bottle stashed somewhere :D )

A: 5!!!
H: 5!!!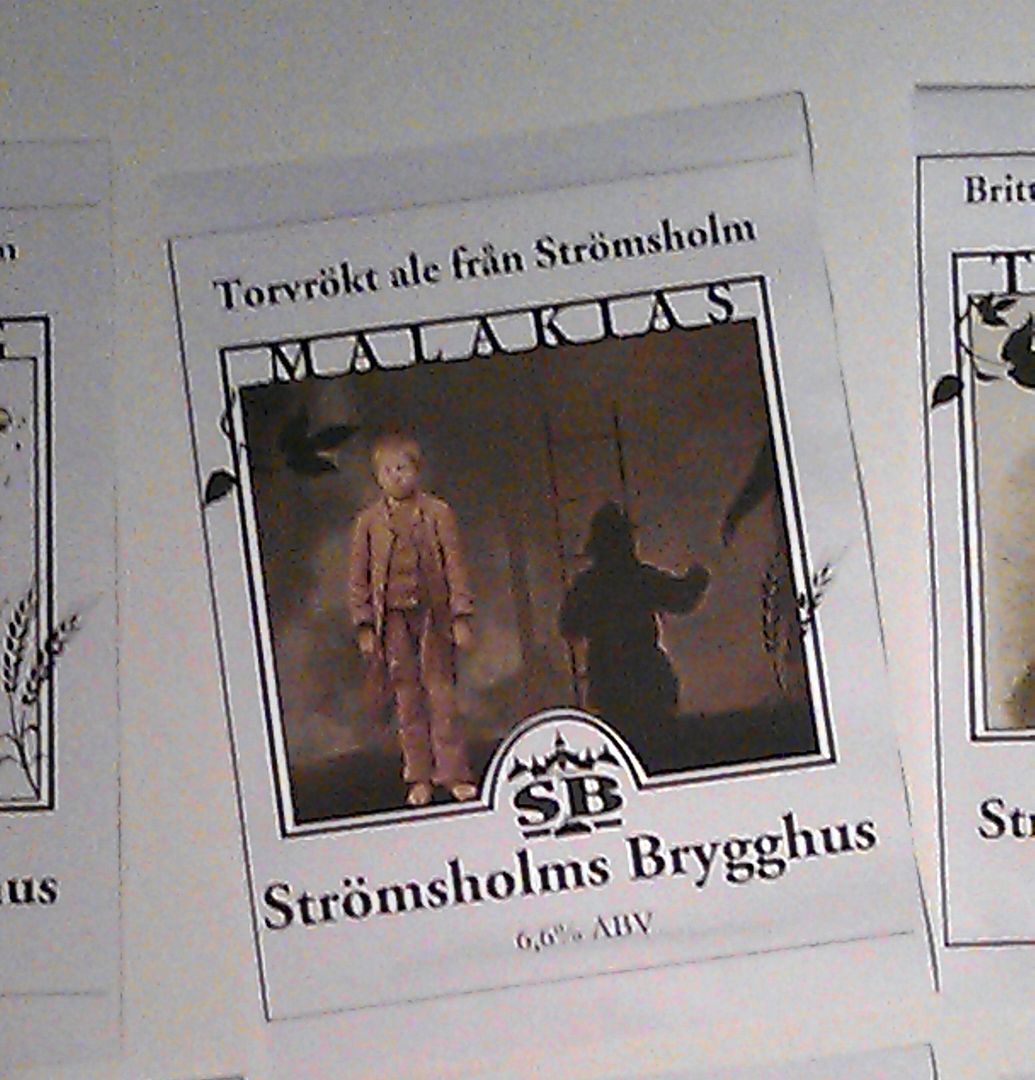 ---------------------

Nøgne Ø Imperial IPA

Too sweet for an IPA

(interesting ... I wonder if we were in a bad mood or something .. I'd like to give it another chance ..)

A: 2
H: 2,5

------------------------

Mikkeller Citra

Fruity, Simple, Fresh, springy

A: 3,5
H: 4

-------------------

Dragonhead Stout

maybe too fresh? A bit unimpressionable. Kinda .. meh ...

A: 2
H: 2

---------
Heresy Weyerbacher
Imperial Stout

Nice sour cofee. Easy drinker.

A:3
H: 3,5

----------------------

Big Swell IPA (hawaj)

Non complex, good bitter, quite simple. Bit boring. Gone and washed quite fast.

A: 2,5
H: 4

-------------

Julnarren
(Also known as Hantverksbryggeriet Vinternarren)

Kind of perfumey, weird, sour-sweet. Something about it was off.

A: 2,5
H: 3
-----------------

Raasted Festival IPA

Super bitter, intensely hoppy, pumpkin seeds. Good stuff!

A: 4
H: 4
------------------

Raasted Grilløl

Hmmm I didn't write much about it in my notes. Just that for some reason I was ecpecting smokey taste ... However it was quite grassy and nicely bitter. A good beer.

A: 3
H: 4

--------

Gudelös

My favorite Danes. Drunk and reviewed quite a few times before


A: 5
H: 5

---------------

De Molen
Vuur & Vlam

Yes this is a bloody great beer! I will buy it and drink it over and over. However I think I am a bit more demanding.Becoming more and more of a beer snob I'm afraid. High quality beer must give high performance! No less is accepted ;)
Lots of hops and caramel and malty goodness ... however it is missing some kind of kick to make it worth its money. I haven't figured it out yet ... too much alcohol taste? Hmmm I need to re-review ...

A: 3,5
H: 4

-------------------

NOTE
I do not trust our rating in the last 3 beers. I knew my taste buds had fallen asleep and I wanted to go. Henrik really negotiated with me and I decided to stay a bit more, but only cause I was so impressed with this really great Swedish brewery (the one with the Malakias lol)... we were quite intoxicated and it was like after 7 hours of drinking so ... I don't know ... the beers were good but ... the highest rating? hmmm I don't know ...
I must taste again ...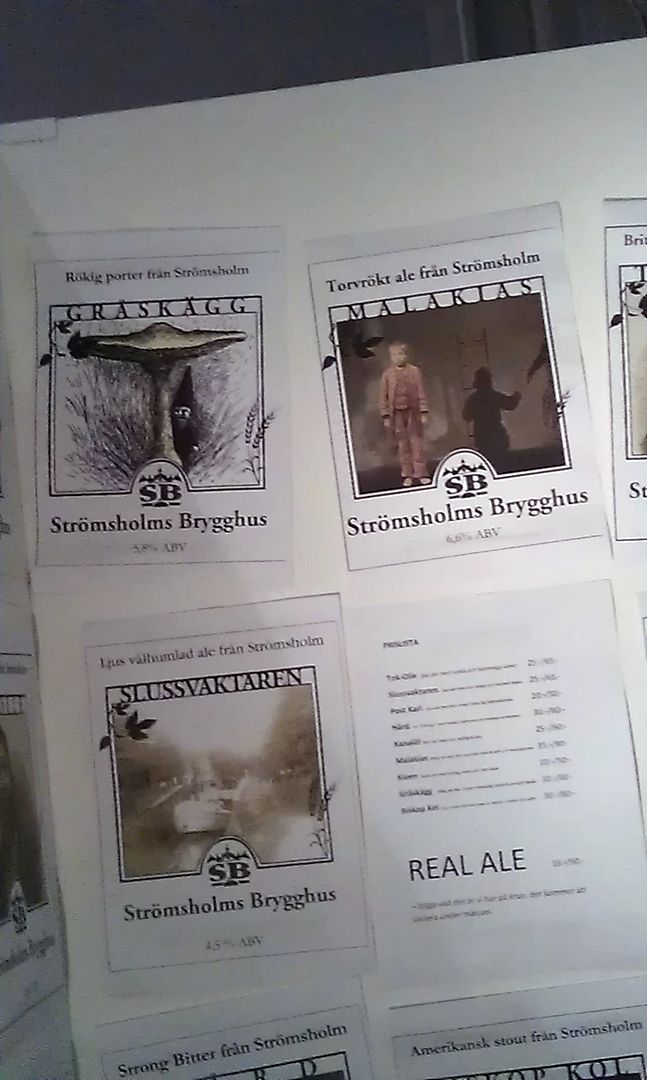 Strömsholms Gråskägg

Roasty, smoky, full, smooth, chocolate, nutty

A: 5
H: 5

-------------------
Strömlolms
Biskop kol

Roasted nuts, chocolate coffee

A: 5
H: 5

----------

Strömlolms
Röd Ale (gold winner)

(I can not find a link to this beer. If you do please message me)

pumpkin seeds, cookie doe

A: 4,5
H: 4,5



Skål!