Here in Scandinavia the sun goes down really slowly and the days grow bigger as the summer grows near. At 21:30 it is still very bright outside. The sun goes down around 22:00 right now.
Yesterday I went for a run at 21:30 down by the Hammarby bay. On the way there I always pass through a little park; the white trees there smell SO good, SO intoxicating, I always want to sit on a bench and … just inhale the scent and the oxygen.
It is truly pleasant running at this hour, THIS time of year!
No people in sight, apart from a few runners sporadically and a cyclist or two, ringing gently their bells in the calm, while the sound of their wheels and their bicycle chains rattling swiftly and fading, like a mechanical cricket, in the twilight. And the sky still deep blue like an early afternoon and the sunset falling red into the water. And the moon, as if hanging out of place on the blue sky, shining silver on the other side of the water. I had to turn off my mp3 player. There is no music fitting this picture.I listened to my footsteps, my breath and the blackbirds singing their hearts out. Oh, I love my life!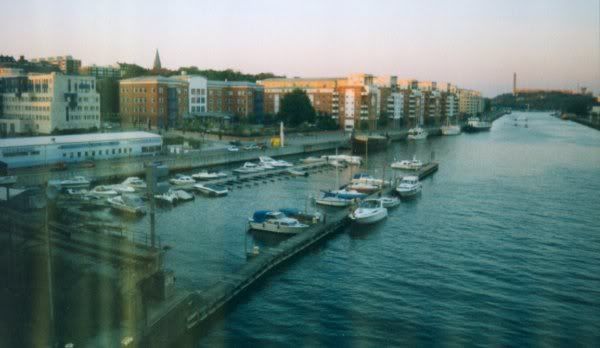 - Here is my running route for yesterday : http://www.gmap-pedometer.com/?r=1895858
It is best to choose

Hybrid

view of the map so you can see landscape … you know trees and water
. Plus, if you zoom in, in the starting and finishing point you can almost see the chestnut tree outside my building. And if you zoom out you can see my entire route in a shape of an arrow as if saying

:

"I live

HERE"