My cacti are getting big! I need to replant my dish-gardens soon and buy baby cacti again.
Oh I found this lovely site here: PinkyTree, they sell these small-small cacti, pinky size in a key-chain and you can have it with you all the time :) (well until it grows and you got to put it in a normal pot).This is the cutest thing I have seen in weeks ;)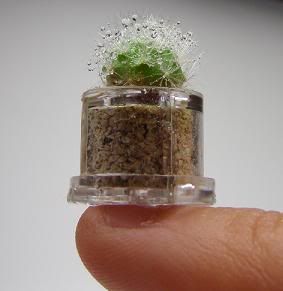 I am now waiting in agony to hear the news about our new TV … is it fixed or not? Am I going to have my HD Movie Marathon while my baby is in Spain? I am waiting for the sun to go a bit down so that I go running today.
I am particularly glad today because I found an ooooooooooooooooold friend on facebook :D We used to be so close that if we were lesbians we would definitely be a couple :) I'm so happy I found her. I am going through my pictures to find one we were 9 or 10 on a day trip with our school …. 7 hundred thousand years ago …