This weekend I finished reading Låt den rätte komma in.
It was really good indeed! Many of the events are taking place around my favorite area, (where Anna lives) and around "my lake" , the one I call the AlexandraLake, how cool is that? (Well it is for me). The real name of the lake though is Judarn, and it is in a nature reserve in Judarskogen in Bromma.


(It is the frozen lake from the pictures I posted this winter here: Dog walk II)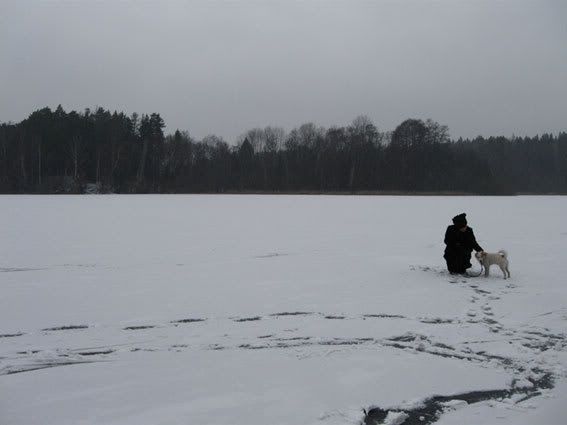 I liked the writing and the story has some very good moments.
However, apart from the "international" vampire sentiment, it is very Swedish; and that makes it maybe less fascinating in some aspects for a non Swede or a person who is not familiar with the Swedish culture. It all takes place in 1981, when I was a kid, and some things take me down to memory lane … The story has a uniqueness however that I found refreshing. This genre is pretty much done and so I'm glad to see some new aspects and new elements. Just likeTrue Blood, it has something bewildering, provocative and fresh.
I will watch the movie today since for a few days now we couldn't "find" the film. For some reason, some idiots decided to dub it in English!!!! O_o I mean who the FUCK is watching dubbed movies? Who's the imbecile?!!! Like my friend Nico Bellic would say. Well yeah apart from the assholes of the world … like the French the Germans the Spanish the Italians etc … who the FUCK watches dubbed movies? I mean, to watch a dubbed animation is one thing. But a movie?!!! Fucking idiots who can't read subtitles make me furious. I thought illiteracy was not an issue in the western world anymore. I guess I was wrong… Imbeciles.
Anyway we "found" the original which is in SWEDISH and I'm watching today … or tomorrow …!
Hmmm it depends … because today it's True Blood day and I usually don't want to watch anything else :)
My True Blood day is sacred!!! :p
Bite you later ...